Welcome to this post about why Starbucks is so successful!
A pumpkin spiced latte with whipped cream. One cup of the pink drink with coconut milk. Three birthday cake pops. I wouldn't be surprised if you suddenly craved any one of Starbucks' famous drinks and foods, as I sure did. Starbucks is not your average coffee place at the corner of the street; it is much more than that. It is an environment, an experience, and a home away from home.
Even with all the long lines, in-person or in the car, we would still want to go to Starbucks. I wouldn't mind waiting for 20 minutes to get an iced caramel macchiato. Even with the misspelled names on our cups, we still go back to that very place. I have probably only seen my actual name once out of all the times I went to Starbucks. And, even with the overpriced cups, we still go back there, as all the $5 dollar bills add up. I mean, come on… $4.65 for a venti cup of mocha?!
So the real question that needs to be asked (and answered) is Why is Starbucks so successful? It started out as one coffee bean store in Seattle to 31,256 stores in 49 years. You'd be surprised to know that:
Starbucks is the biggest coffee chain in both the United States and the world. It is available in at least 78 countries on six continents. In the US, 40 percent of coffee shops are Starbucks stores. In China, which is now Starbucks's fastest-growing market, a new location opens every 15 hours. There are roughly twice as many active members of the Starbucks loyalty program as there are residents of Michigan.

www.vox.com
As teenagers, we don't necessarily think about the detail and planning behind certain things, like Starbucks. Whenever I've gone to StarBucks, my only focus was making sure that I got the right order, not anything else. Because of the lack of attention, we miss out on many things that are so eye-opening and mind-blowing. For example, have you noticed that all tables are rounded so that no one feels lonely? I certainly have not; let us know in the comments below if you have!
Lucky for you, this blog is all about why Starbucks is so successful. This article will list different concepts and elements of Starbucks that make it the place we love today. So, after reading this blog, you'll be able to see beyond the menu of mouth-watering refreshments and snacks. Read on to open your mind about StarBucks!
1. It's Not Starbucks Coffee You Are Getting — It's the Starbucks Experience
Whenever I go to Starbucks, it's not just the coffee that I love; it's the whole experience. Some people may even hate coffee, but love going to Starbucks. Clearly, the main reason for Starbucks' success is not the coffee, but the experience in general.
After Howard Schultz bought the company in 1987, he focused on making Starbucks the "Third Place". The idea of the third place is one that exists between work and home. It's a space where people want to hang out and relax. It's always comforting to be able to sip a nice cup of coffee while sitting in the shop working or meeting up with friends. They provide a cultivated experience that consists of a cool, clean, and atmospheric aura, as well as friendly baristas, and unique coffee names.
In an interesting study, Bain found that 80% of CEOs believe they are providing a great experience. Yet, only 8% of their customers agreed. Consumers buy experiences, not products. Businesses like Starbucks understand this important principle. By using experiences to frame 'traditional' products, you can make your product endlessly more valuable. If you're not competing on experience, you are essentially in a race to the bottom.
2. Starbucks' 5 ways of being
Be Welcoming – make it your own – leaders encourage partners to use their own unique style to produce inviting encounters.  Different means to the same end goal – each person is different and should champion their own strengths to create a lasting relationship with the customer

Be genuine – Starbucks definition – "to connect, discover, and respond." This requires listening followed by action. Do not get stuck in paralysis by analysis

Be considerate – consider the needs of others, how can you invest more of yourself and encourage your teammates to increase their investment to be more considerate?

Be knowledgeable – Starbucks definition – "love what they do and share it with others." In today's information age, we add value to our efforts when we gain work-related knowledge. Sharing knowledge with customers makes for more sophisticated consumers – AKA the "ideal customer." When we add value/knowledge to our customers, they offer our business their loyalty and come to see us as trusted advisors rather than just transaction handlers!

Be involved – community, and in the store with customers.

https://addicted2success.com/startups/why-starbucks-is-so-successful-5-must-have-ingredients/
3. Starbucks is consistent
If you've ever noticed, many Starbucks stores are the same. I could go to one Starbucks 5 minutes away from my location and another one an hour away, yet I would have a similar experience and taste of my coffee.
All Starbucks stores include:
Indie music
Comfortable tables for remote work
Reliable internet connection
Charging outlets
Consistency is key when it comes to bringing customers back to the store. From the atmosphere in their stores to their digital content, to their advertising, everything looks, sounds, and feels like Starbucks. The end result? The experience you have with Starbucks always feels consistent, whether you're reading a social post, waiting in line, watching a TV ad, or interacting with their brand in any way, anywhere.
4. Starbucks is innovative
Short, tall, grande, venti. I sure haven't heard these terms anywhere outside of Starbucks. One main factor to Starbucks' success in this modern world is its ability to innovate. They were able to come up with new things that changed the world of coffee and eating forever. They came up with a unique way to describe orders, which is one reason why Starbucks stands out against other coffee stores. While they didn't come up with the Frappuccino, they made it the most popular drink among us teens and others. They were also one of the first companies to adopt mobile payments and more, which brings us to the next point.
5. Starbucks is able to keep up with digital trends
For nearly 50 years, Starbucks has worked to create a special experience with the customers. Instead of limiting it to human connection, Starbucks went to the next level and took control of the digital world. They created an app to order online, started a membership loyalty program, and made social media acounts. On Instagram, they have more than 18 million followers, and their posts are consistent with the tone of the brand – clean, bright, and modern.
Check out the website, ideas.starbucks.com, to submit an idea for the company to expand and improve its service!
6. Details are everything
In business, everything matters. Howard Schultz, the former CEO of Starbucks, had an unbelievable amount of focus on things, which made Starbucks the place it is today. It may not matter to other firms, but the little things make all the difference. Here are some examples:
Personalized names: Even though the baristas may spell your name wrong 99% of the time, it's the thought that counts. They could simply print a number on the cup, but the baristas take a few extra seconds to get your name and make the experience even more personalized.
Curated music: When you enter Starbucks, the employees want you to hear cool and interesting music that you might not hear on the radio. In an interview with Holy Hinton, she said, "It's the music that we'd want to hear on Sunday morning when we're reading the paper and drinking coffee. It's a friend-to-friend personal."
Smell: The wonderful aroma of a good coffee shop is a great selling and branding tool — this is particularly important since research shows that the majority of the experience of drinking espresso comes from the coffee shop experience itself. When you walk into any Starbucks, a sudden whiff of that coffee aroma hits you like an ocean breeze.
Round tables: As said in the introduction, Starbucks has round tables to make everyone feel comfortable and not lonely. After all, even a 1:1 needs a table for four. But sitting at a rectangular table with three empty chairs feels downright awkward. You can't put your finger on why you didn't have the meeting in the other coffee shop; Starbucks just felt more comfortable.
7. Starbucks lives by its mission statement
It was said best by Paul Williams: "The mission statement and the intentions – they're not just on paper. They truly are meant to be the way things get done."
Starbucks mission statement: "To inspire and nurture the human spirit—one person, one cup, and one neighborhood at a time."
This mission statement truly reflects what the company does to keep its business running.
8. Pricing strategy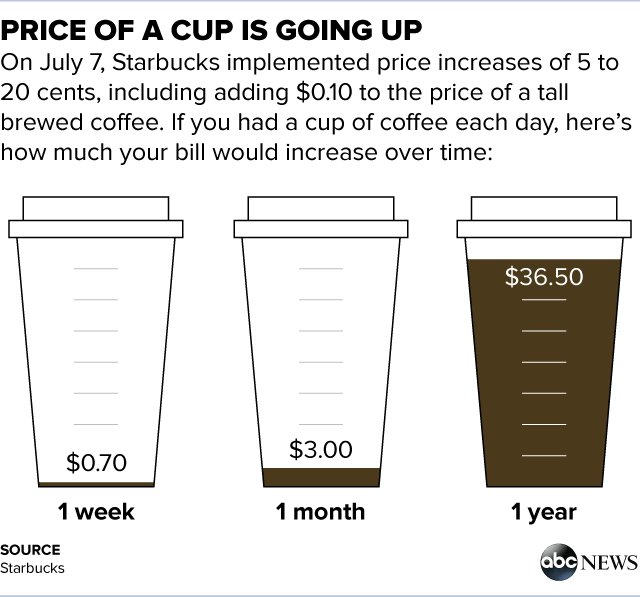 Starbucks sells their coffee at a premium price, or at least 25% higher than value brands. In 1990, only three percent of the coffee sold in the United States was sold at premium prices. By 2000, that number rose to 40% in what the Harvard Business Review calls, "The Starbucks Effect."

By offering customers exceptional drinks and food, Starbucks can charge more for them. Why? Because people are willing to pay for it.

https://coschedule.com/blog/starbucks-marketing-strategy/
Because they are looked at as a luxury brand, they are able to increase prices to maximize their profits.
9. Location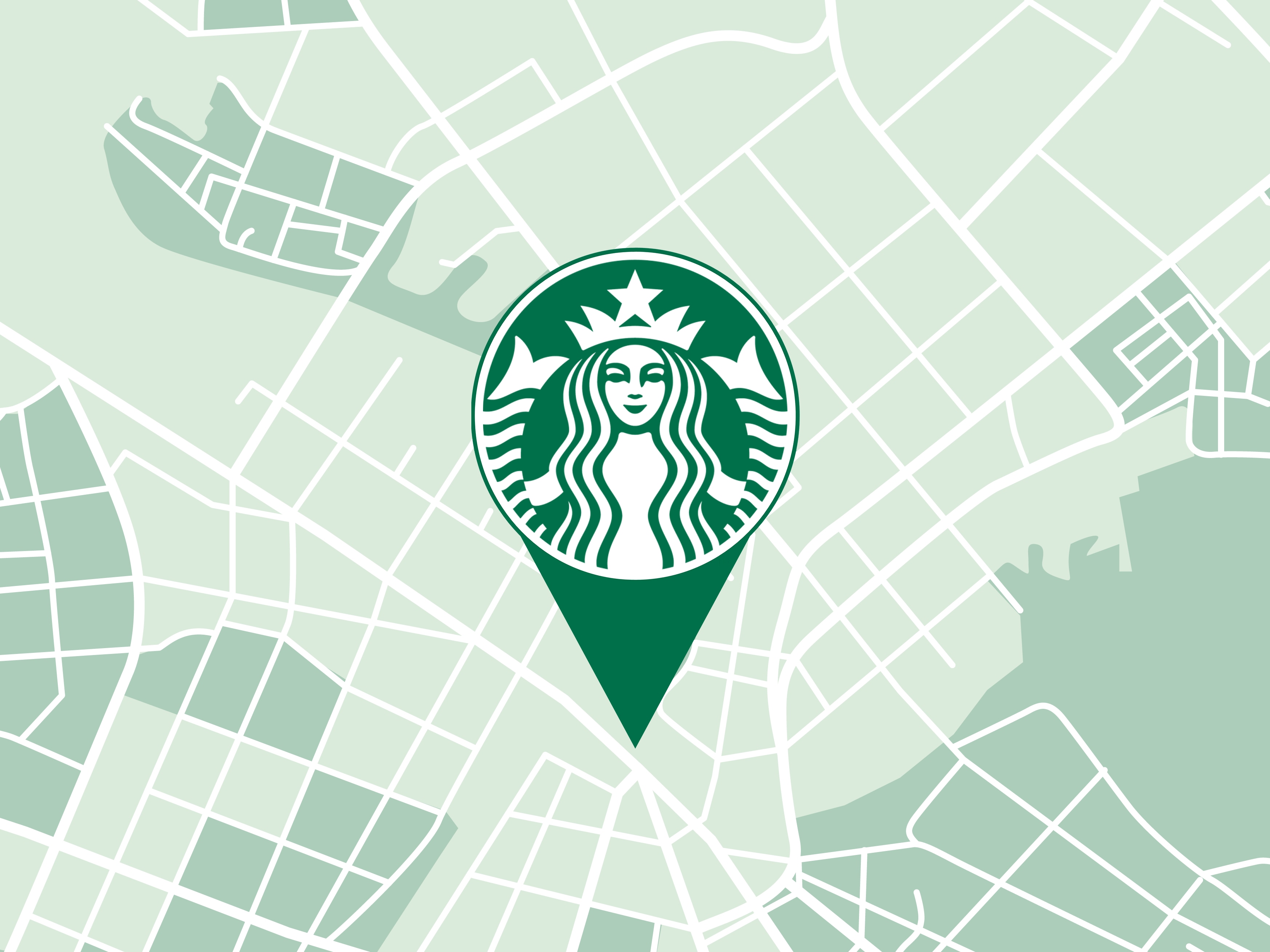 Convenience is vital for food and beverage businesses. Starbucks locations are especially convenient for people to meet and get coffee along the way to work. Regardless of whether it's business meetings, meeting up with friends, area to study or work, Starbucks has it covered!
10. Starbucks has redefined how we drink coffee
Last but not least, Starbucks has redefined the way we drink coffee. "It created a third place between home and work where people can relax, enjoy a cup of coffee and experience the inviting ambiance. Starbucks doesn't compete with other coffee companies, it competes with going to see a movie." (www.cmswire.com) The most successful companies in the world are not characterized by the best products in the world, but by redefining our expectations.
The Takeaway:
As said by Starbucks's CEO, "Starbucks represents something beyond a cup of coffee." And, this blog truly proves that fact. The 10 unique ways Starbucks is so successful today are because:
It's not the Starbucks coffee you are getting – It's the Starbucks experience
Starbucks' 5 ways of being (welcoming, genuine, considerate, knowledgable, involved)
Starbucks is consistent
Starbucks is innovative
Starbucks is able to keep up with digital trends
Details are everything
Starbucks lives by its mission statement
Pricing strategy
Location
Starbucks has redefined how we drink coffee
For more information on Starbucks and its success, I highly recommend checking out the book, "Pour Your Heart Into It: How Starbucks Built a Company One Cup at a Time." Along with this, be sure to watch 10 facts you didn't know about Starbucks. Lastly, if you are interested in business and want to start your own one day, be sure to check out our blog on how to start a business as a teenager.
Before I wrote this blog, I've never actually wondered about what makes Starbucks better and different from other typical coffee shops. I have so many fond memories of Starbucks, and today, I realized what makes them so special. Starbucks is truly a home away from home, and their purpose is to not only provide good coffee, but an even better experience. They've put a lot of work into making Starbucks the place it is today, so the next time you go to Starbucks, be sure to observe all the small details of Starbucks that work together to create the whole Starbucks vibe. Be sure to not only appreciate the delicious coffee, but also the unique experience!
Next Steps
If you enjoyed this post, please make sure to comment your thoughts below and share it on social media!
Check out more content for:
Use this link to sign up for a brokerage account on WeBull and get TWO FREE STOCKS valued up to $1400 when you fund your account!
Learn how I was able to make $1,000/month as a teenager and quit my job by freelancing on Fiverr!
Join The Group Of Teens Dedicated To Achieving Financial Freedom
Disclaimer: Some of the links used on this site are affiliate links. At no additional cost to you, we receive a commission each time you purchase something through our link. It helps us cover the costs of running this blog. We only recommend the best products available.
Disclaimer: We are not experts or certified financial advisers. Our advice for you based on what has worked and continues to work for us. If financial problems occur we are not responsible for them and advise that you speak to a professional. That being said, we believe wholeheartedly that the advice we give to you will help your financial situation greatly.