Welcome to this blog on how to create a vision board that works in 2022!
About a week ago, I created my first vision board. I couldn't be happier. Every day when I look at it, a huge smile appears on my face and I find myself in a much more positive mood throughout the day.
Looking at the huge effect it had on me, I was inspired to write a blog on the benefits of creating a vision board as a teenager. Check it out here! I highly recommend reading it either before or after you create your vision board.
If you came here after reading that blog, I'm very glad to hear that you wanted to take action. If you got inspired to create a vision board after reading about the benefits, you've come to the right place!
To make this blog as simple to understand as possible, I've split it into 3 parts: before creating the vision board, during the process of making the vision board, and after you've made it. Throughout these 3 parts, you'll read about my take and the process I used to create my vision board.
I highly, highly recommend doing the before and during sections of this blog in the morning. In the morning, there are no distractions and our minds are energized and fresh. So, please dedicate one day any time soon to wake up early in the morning and get to work! It took me about 2.5 hours or so to fully do it from start to end, with no breaks.
This is one of the shortest introductions of a blog I've ever written, but I'm super excited to write the remaining article. Without further ado, here is how to create a vision board that works:
Before creating your vision board
Before creating your vision board, it is important that you know what you want to put.
Take a couple of minutes to self-evaluate yourself and reflect. What do you want to get better at? What areas of your life do you want to improve on?
Once you have an answer to these questions, you should write them down. Make a list of different areas of your life you want to get better at. Some examples are:
Relationships
Career and finances
Home
Travel
Personal growth (including spirituality, social life, education)
Health
The list you make will help you know what type of pictures and quotes to include on your vision board.
You have to know what your goals and priorities are before going on to make the vision board. But, once you have done that already, here's the process for actually creating the board:
Creating your vision board
Now that you did all the self-reflection you need to and have a good idea of what you want to include in your vision board, it's time to start making it. There are many different ways you can make a vision board, but this is how I made it and what I believe to be the easiest and most neat way of making it!
Finding Pictures/Quotes
To start off, you'll need to gather a bunch of pictures and quotes that you want to have on the vision board. Refer back to the previous section to see what types of photos to use. I used Pinterest to get my pictures/quotes because Pinterest has a wide variety of content and you can choose anything you feel best fits your personality.
For reference, my vision board has a total of 9 pictures and quotes, but when searching for them, you should find 10-12 just in case you want to swap one out for another. After finding the pictures you want, you can download them.
Congrats! You now have all you need to start putting together the vision. See, it wasn't that hard! It is much easier than collecting magazines and cutting certain pieces out of it and then gluing it to a board.
Creating the vision
To start creating the template, I highly recommend using Canva. If you search up "vision board" in the search bar, you'll find many templates that you can use. However, I created my own and you should look into that as well because there's something special about creating your vision from scratch instead of using someone else's idea.
My vision board is horizontal, and I wanted it to be the size of a normal paper, so the dimensions were 11 x 8.5 inches. When you click create, you'll see a blank screen. This discouraged me because I didn't know where to start, but after researching, a very helpful tip I found is to start organizing the pictures and quotes neatly, in rows.
Upload the pictures one by one and then start placing them wherever you'd like.
It took me 3 tries to get my perfect template, and it may take you more or less. Here's how my templates changed trial by trial: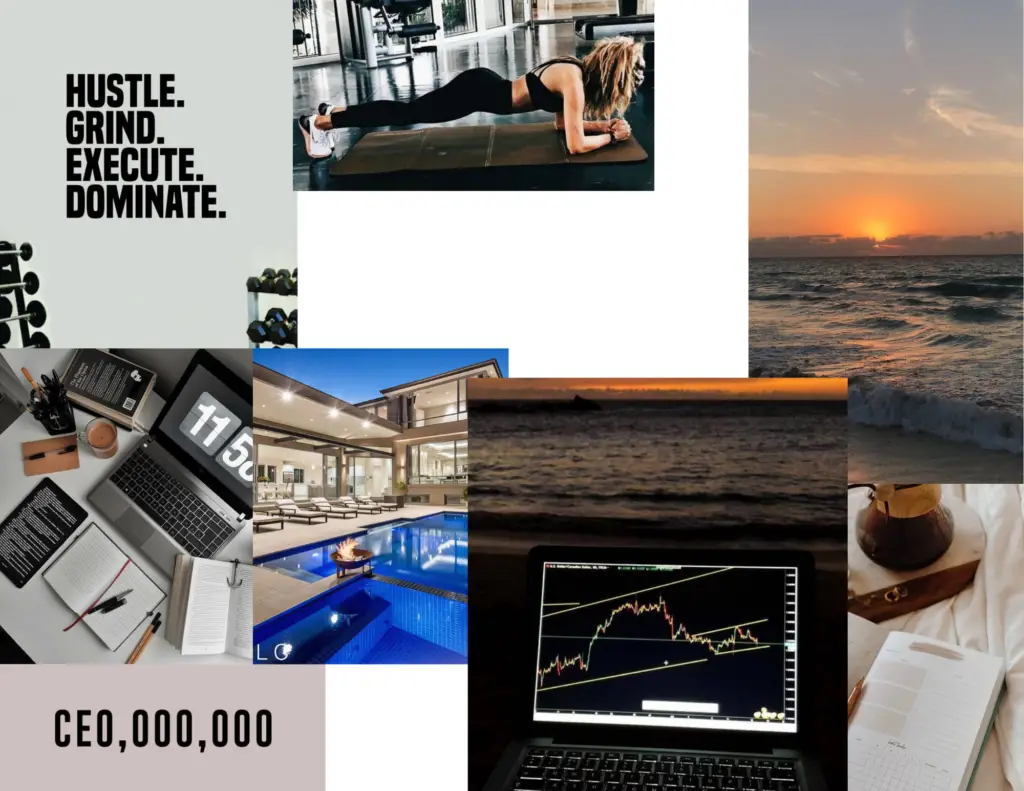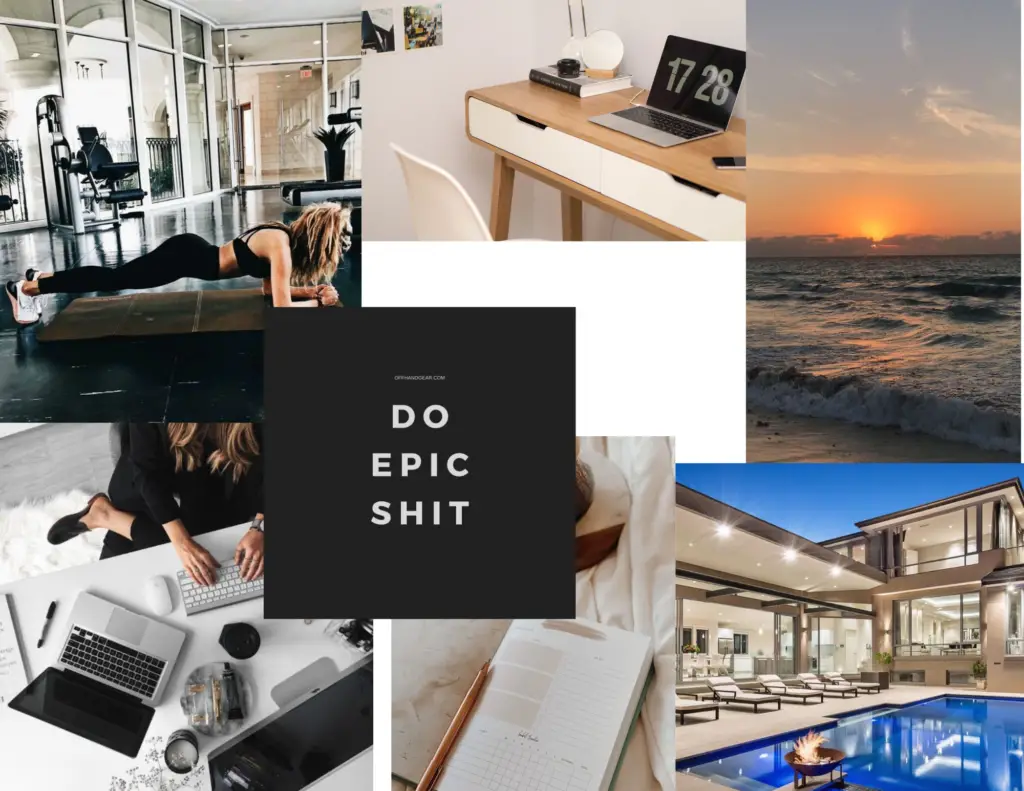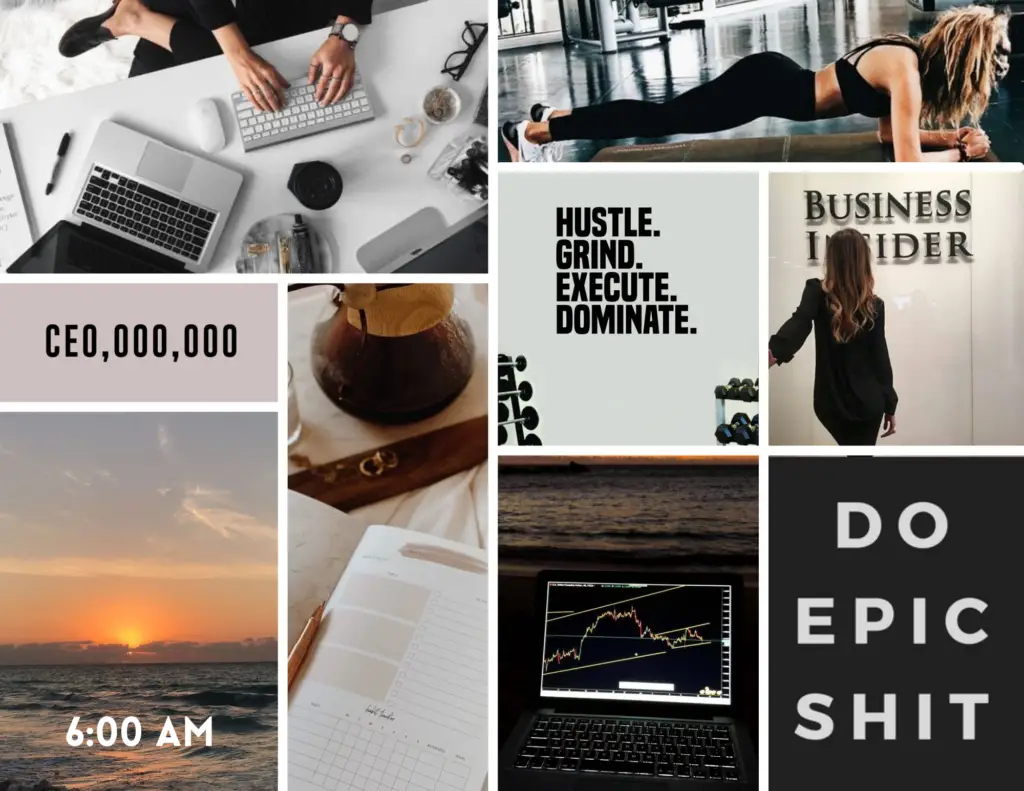 As you can see, you may not get it how you want it to look the first time. Keep playing around with it until you like the look of the vision. To make it look neater, I added white lines by the borders of each picture. It's up to you if you like the style of that or not. If you're having trouble designing it, feel free to take inspiration from the look of the above vision board!
The End Product
After I placed the last picture on my template, I immediately knew that this was the one. I then printed it out on a normal 11×8.5 piece of paper. With the printed-out vision, I put it in this floating frame that I got from Amazon. You can get any frame you want, but I bought this one because it looks amazing when you hang it up. Here's an example: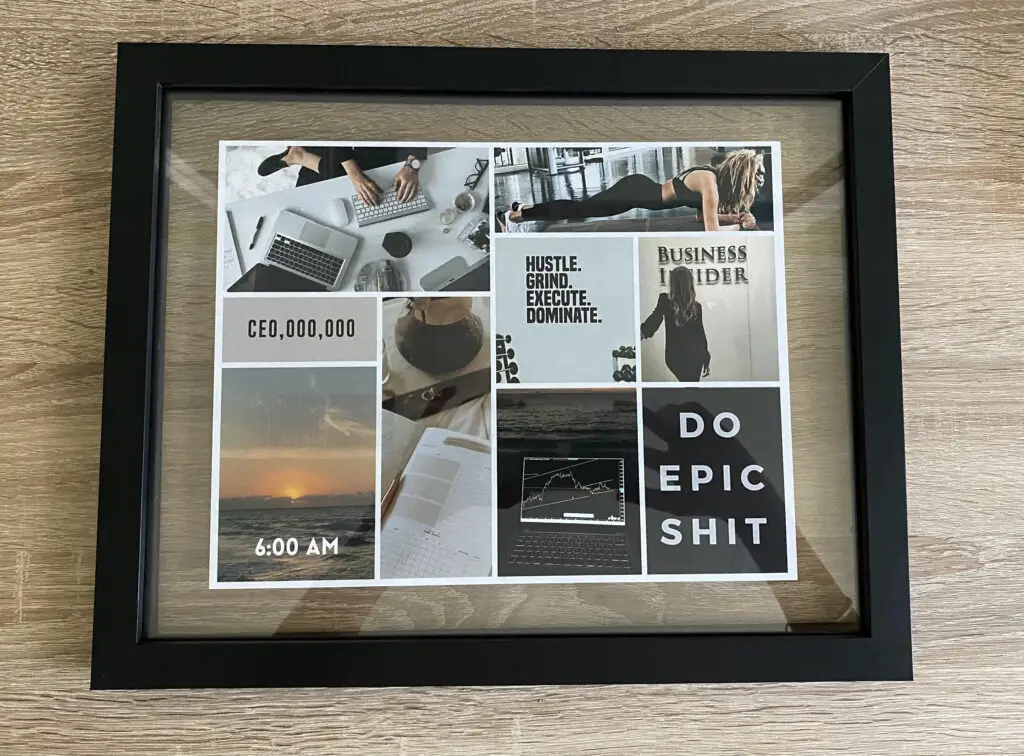 Obviously, this is hung up, but you get the idea. You should hang this up somewhere where you will see it every day. I'm planning on hanging it up above my desk so that when I am working, I am inspired to continue hustling to see results.
After creating your vision board
The hard work is done, and now it's time for you to see the results. Continue looking at your vision board at least one time daily and maybe even set the vision board as your desktop wallpaper and screensaver. This way, you'll look at it more often and make your subconscious mind work.
If you create a vision board and don't even look at it, there's no point in even having one. It is helpful to make it routine to observe your vision board and practice visualization for at least 5 minutes before you go to bed. This is because the thoughts that are in your mind before you go to bed are the ones that replay themselves in the night in your subconscious mind. This way, when you wake up, you may have new ideas on how you can achieve your goals and live the life you desire. Along with this, the thoughts and images that you begin each day with will help you to create a vibrational match for the future you desire.
As time goes by, you'll be able to see your dreams begin to manifest. I also recommend writing down the date you created your vision board, so that a couple of months down the road, you'll be able to track the progress you made and how far you've come. " It will become a record of your growth, awareness, and expansion that you will want to keep and reflect back upon in years to come." (www.jackcanfield.com/blog)
It's a good idea to make a new vision board each year because as you grow, so will your dreams!
The Takeaway
Vision boards are a great way to improve your life using the Law Of Attraction. It will help shape your mindset for you to focus on your greatest ambitions. As a quick recap of the blog, here are some of the key points I made:
Before creating your vision board, take some time for reflection and make a list of different areas of your life you want to improve on.

Then, you can start gathering pictures and quotes from Pinterest or the internet to include on your board.

Once you have all the content you want to use, make a layout of them. Play around with the layout because you won't get it looking perfect the first time. It took me 3 tries, but it may take you more or less.

With your final layout, you can print it out and insert it into a frame. Place this board somewhere in your room where you will look at it often.

Even after you create the board, the work is not over. Before going to bed, take a couple of minutes to review your vision board and think about your dreams and goals for life.
What first inspired me to make a vision board was this video. I even bought a floating frame because of how aesthetic it looked in her video.
I hope this blog gave you all the clarification you need to create your vision board and start manifesting the life of your dreams! If you have any additional questions or comments, please feel free to comment down below and I'll get back to you.
You certainly don't have to follow all the instructions given in this blog. It is important that your vision board is unique to you and only you. So, good luck creating your vision board, and have fun with the process!
Next Steps
If you enjoyed this post, please make sure to comment your thoughts below and share it on social media!
Check out more content for:
Use this link to sign up for a brokerage account on WeBull and get TWO FREE STOCKS valued up to $1400 when you fund your account!
Learn how I was able to make $1,000/month as a teenager and quit my job by freelancing on Fiverr!
Join The Group Of Teens Dedicated To Achieving Financial Freedom
Disclaimer: Some of the links used on this site are affiliate links. At no additional cost to you, we receive a commission each time you purchase something through our link. It helps us cover the costs of running this blog. We only recommend the best products available.
Disclaimer: We are not experts or certified financial advisers. Our advice for you based on what has worked and continues to work for us. If financial problems occur we are not responsible for them and advise that you speak to a professional. That being said, we believe wholeheartedly that the advice we give to you will help your financial situation greatly.