Yotta Savings Review in 2021

Welcome to this Yotta Savings Review!
I (Jacob) turned 18 a few months ago. I won't lie, my favorite part about turning 18 was signing up for all the investment/banking apps. It was exciting finally getting to use all of these apps we had been talking about on the blog for over a year.
One app that I heard about just a few weeks ago was Yotta Savings.
Side note: I'm not sure if it's pronounced "Yoda" or "Yatta".
Anyways, Yotta Savings is a very interesting idea. It is basically a savings account that acts as a lottery.
Yes, you read that right. You are literally playing the lottery if you use this app.
How Does Yotta Savings Work?
Yotta will give you 1 ticket to their lottery for every $25 that you have saved.
So, if you have $100, you get 4 tickets. If you have $2,500, you get 100 tickets.
But, these tickets aren't just for one-time use! These tickets never expire or go away. They will be there week after week as long as your money is still saved in Yotta.
So it's not like you get one chance to win this lottery, you get a chance week after week!
Each ticket lets you pick 7 numbers from 1-70 for that week. For example, you might pick the numbers 2, 8, 13, 42, 56, 49, 21.
If you would prefer not to pick your own numbers, they will be automatically picked for you.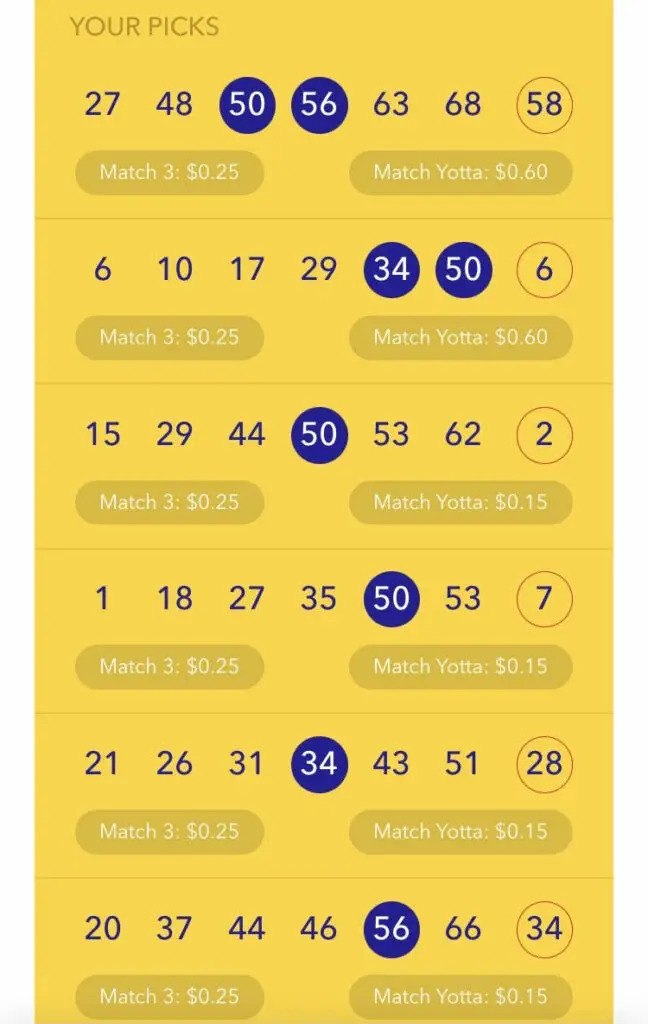 Then, each day of the week at 9:00pm EST, Yotta will draw a number. If the number that is drawn matches ANY number that you picked, you get a match.
The more matches you get, the more money you earn.
Fun Fact
Something that I didn't realize was that the order of the numbers you pick doesn't matter.
Here's what I mean:
Suppose we have a ticket with these numbers again: 2, 8, 13, 42, 56, 49, 21.
I was under the impression that in order to match my 2, a 2 would need to be drawn on Monday (since the first number would correspond to the first day). Then on Tuesday, I would need an 8, and so on.
However, this is not the case! A 2 could be drawn on any day (Monday-Saturday) and I could still win! What this means is that the sequence of the numbers you pick doesn't matter.
What is the Yotta Ball?
There is one exception to what I just said, and that is the Yotta ball. The Yotta ball is the special red ball that is drawn on Sunday's at the end of the week. The Yotta ball number must match the last digit on your ticket.
So, in my example above of 2, 8, 13, 42, 56, 49, 21, my Yotta ball is a 21. If the Sunday Yotta ball is indeed a 21, my Yotta ball would match.
So in order to win big, you would need to match all 6 of your first 6 numbers to any day of the week and your last number must match the number drawn on Sunday.
Yotta Savings Prizes
Now, the fun part! How much can you win on Yotta Savings?
The answer is, as always, it depends. The number of matches you get will dictate the amount that you win.
Here is the list of prices straight from their app:

As you can see, the prices range from virtually nothing ($.10) all the way to the jackpot ($10,000,000).
And as you would expect with something like this, the odds of winning the $10 million are very slim, but not impossible.
I also should mention that the large prizes are split, so you may end up having to split the $10,000,000 with several people.
Last week was the first full week I had the app and I won $.15 for matching one yellow ball and the Yotta ball.
While that may not seem that impressive, I only had 5 tickets that week. This week I have 201 tickets from referral bonuses. This means that my chances to win have just multiplied by 40x.
What Are The Odds Of Winning On Yotta?
By now it might seem to good to be true, and it is. Because as you might expect the odds of winning big are very slim.
Since I'm no statistician, I'll give you the official numbers from someone way smarter than I am.

So now you see the odds aren't great. But the good news is that these numbers are for one ticket. The more tickets you have, the more chances you get. So if the odds are 1/3 of matching one number, in theory 66 of my 200 tickets should match at least one number each week.
Use the code JACOB234 to sign up for Yotta Savings and receive 100 free tickets equivalent to $2,500 deposited!
How Much Can I Earn On Yotta?
The nice part about Yotta is that the amount of interest that you earn can vary greatly. Most high-yield savings accounts have APY's of less than 1% right now. Meaning that if you have $100 saved, you should get $1 in interest every year.
Yotta's worst case average APY is 1.62% and best case APY is 2.25%. The reason that there is a worst case and best case APY is because the top prizes are split.
For example, if you happened to win the $10 million along with millions of other people, the $10 million would be split to the point where everyone earns hardly anything. In this case, your interest rate would be 1.62%.
But assuming you won the big prizes and never had to split it with someone else, your interest rate would be 2.25%.
In all reality, your interest rate will fall somewhere between 1.62% and 2.25%. Which as mentioned, is 2-3x higher than the best high-yield savings accounts out there right now.
Even if you didn't win any prizes which is really unlikely, Yotta Savings still offers a .2% base interest rate. Which is still better than a lot of banks out there.
Yotta Referral Bonus
Now here's where things get crazy. Currently, Yotta offers a refferal program that is pretty insane. They will give you 100 tickets for signing up with a referral link, and another 100 tickets for every person that you get to sign up.
This means that you get a free $2,500 worth of tickets for signing up and for every time someone signs up with your link. If we assume that we get an average of 1.9% APY, each referral will earn you $47.5 per year.
There's also some pretty sweet bonuses if you manage to sign up several people.

Use the code JACOB234 to sign up for Yotta Savings and receive 100 free tickets equivalent to $2,500 deposited!
How Does Yotta Savings Make Money?
If Yotta Savings is dishing out all of this prize money, how do they make money? The answer is the same as almost any bank or brokerage out there. They make money on your money.
Let's say you deposit $10,000 and 1000 other people do as well. Now Yotta has $10 million sitting in their bank accounts. What they do is take this money and invest it to make more money.
Let's say they earn an average of 5% APY. Well, they are only paying an average of 2% APY, so they are getting to keep 3% APY in profit. FYI: 3% of $10,000,000 is $300,000.
A few things to keep in mind is that they don't invest all of their money at one time. They keep a large portion of it in cash so that people can withdraw their money if they want to.
They also have done significant angel investing to fund the first months of prizes before they necessarily have the money to give prizes out.
Downside of Yotta
Now, there is one major downside with Yotta Savings, the interest rate will drop over time. As more people sign up, the probability that the big prizes have to split will increase.
In addition, Yotta can change the prizes that they offer at any time which can change the APY.
They also could increase the number of numbers to pick from on your tickets. Right now it is at 70, but they could make it 80, 90, or 100 very easily. The more numbers they add, the less likely you are to win.
In theory, overtime Yotta should increase their prizes to account for this if they don't want to lose customers.
But, for now just know that the APY could change very easily. That's why you should sign up today to take advantage of this opportunity for as long as possible.
Is Yotta Savings A Scam?
A lot of people probably think that Yotta Savings is a scam. I'm 99% sure that it's not.
First of all, it is FDIC insured which means that the U.S. government will pay up to $250,000 if your money is ever lost by the bank.
Also, several big YouTubers have been promoting this platform and even investing in it which tells me that they believe in it as well.
Keep in mind that while it may seem like you are making tons of free money, Yotta is making a lot more money than you are.
Finally, this isn't the first app like this. Prize-based savings accounts have been legal in the U.S. since 2014 and there are dozens of other apps like this out there. This one has just become popular due to it's high APY and easy interface.
Is Yotta Savings The Future of Banking?
Many people believe that Yotta Savings is the future of banking. The UK was the first to implement a system like this and as a result they saw that their citizens were much more excited to save when there was a chance to win money.
Adam Moelis, the co-founder of Yotta Savings, said, "69% of Americans have less than $1,000 in savings while spending more than $1,000 on lottery tickets each year…you can see the problem".
I'll admit, I've loved the thrill of Yotta Savings. It's made me want to save as much money as possible in the app. So I think it's clear that their idea is working.
Check out more posts on this topic in our investing category!
Referral Link To Get 100 Free Tickets on Yotta Savings
Finally, I want to offer you a referral link for you to sign up. If you use my link, you'll get 100 tickets which is equivalent to having $2,500 saved. This link will also give me another 100 free tickets, so you're helping both of us out.
Use the code JACOB234 to sign up for Yotta Savings and receive 100 free tickets equivalent to $2,500 deposited!
The Takeaway
I hope you enjoyed my review of Yotta Savings. I truly believe this is a fun way to save money that has the potential to win you a lot of free money! This might just be the future of banking so make sure you click the link and sign up today to get your free tickets! Good luck!
Next Steps
If you enjoyed this post, please make sure to comment your thoughts below and share it on social media!
Check out more content for:
Use this link to sign up for a brokerage account on WeBull and get TWO FREE STOCKS valued up to $1400 when you fund your account!
Learn how I was able to make $1,000/month as a teenager and quit my job by freelancing on Fiverr!
Join The Group Of Teens Dedicated To Achieving Financial Freedom
Disclaimer: Some of the links used on this site are affiliate links. At no additional cost to you, we receive a commission each time you purchase something through our link. It helps us cover the costs of running this blog. We only recommend the best products available.
Disclaimer: We are not experts or certified financial advisers. Our advice for you based on what has worked and continues to work for us. If financial problems occur we are not responsible for them and advise that you speak to a professional. That being said, we believe wholeheartedly that the advice we give to you will help your financial situation greatly.