The Pros and Cons of a To-Do List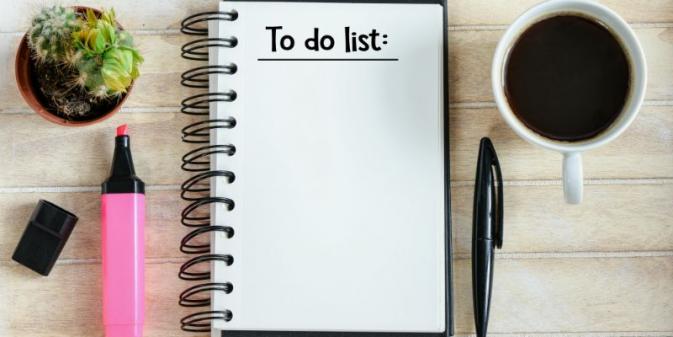 Welcome to this blog about the pros and cons of a to-do list!
Each year of middle school, I would receive a notebook that was a planner for the homework of each class. As I would put it in my backpack, I rolled my eyes, thinking that this is useless and is only going to make my backpack heavier. Even though all my teachers would tell us to write down the homework for the class, I never did.
For me, I would finish most of my homework in the class and didn't really have any extra work to do, which is why I didn't need the planner. I would just remember it in my head and do the task when I came back home. However, as I started getting involved in more things, like Teen Financial Freedom, setting goals for myself, and creating routines, my mind couldn't remember all the different things I had to do. That's when I started using a to-do list.
When I first started, it was just a random list of things I had to do, not mattering whether it was for today, tomorrow, or next week. That turned out badly for me because I would leave every task for another day. I then made a to-do list for each day, which is what I continue to do till day. I would say that this is the most beneficial to me because it keeps me focused and productive. However, it is not perfect. If you could see my planner, you'll see that I put off a lot of tasks for another day. In fact, I was supposed to create a vision board two weeks ago, but I have it in for tomorrow. (lol)
I have been using a to-do list for over a year now, and I would say that it has helped me a lot. I can see myself in the future continuing to use it to help me stay on track and improve myself. But, while there are many pros to using a to-do list, there are some cons, which is what this blog is about. Not everyone follows the same type of productivity method, but regardless of how you stay productive, it is useful to know about what the pros and cons of using a to-do list are so that you can decide whether you want to continue using it, start using it, or maybe even stop. So, here they are:
Pros:
1. They are structured and give you a clear game plan
The first benefit to using a to-do list is that it gives you structure in your routine and a clear game plan of what you have to do throughout the day. It gives you clarification of what you have to work on and what you want to accomplish. Without a to-do list, your tasks would just be circling around in your mind and you might get confused on what you have to get started on or what you have to finish.
The list you create will save you time so you don't have to worry about anything unimportant or not necessary. You see what you have to, you go after it, and you'll be able to get it done with focus and determination!
2. They help you stay on track
Another pro to using a to-do list is that it helps you stay on track and not get distracted by other things. It keeps you accountable for doing your work because you wrote it down yourself. I understand not wanting to do something because someone else told you to do so, but when you tell yourself to do something, there's no force that should be able to stop you from getting what you want.
When you write down what you has to be done and have that list in front of you, don't lose sight of it. "It's hard to deny that you have tasks to complete when they are staring back to remind you." (essentiallifeskills)
3. They increase productivity
My to-do list has massively improved my productivity. When I know what I have to, I can go after it as efficiently as possible. After I finish one task, I can take a short break and then go on to the next. This routine has helped me stay productive because I just move on to the next thing without even letting my mind stop me from doing so. It's like a snowball, getting the ball rolling faster and faster that it can't stop.
4. They develop discipline
Believe me, discipline is something that I have struggled with for a long time. Before I started using a to-do list, I didn't have enough things to do and goals to go after to be disciplined. However, now that I filled that void in my life, my to-do list has been the one allowing me to develop the discipline I need.
Keeping a to-do list has helped me go after my goals and crush my tasks consistently. The key word in that sentence is consistency. I have a to-do list for each day, and knowing what to do for the majority of my days give me order and structure.
Start with one day at a time, and see how that helps you be self-disciplined!
5. They give you a sense of control & accomplishment
Last but not least, having a to-do list gives you a sense of control and accomplishment.
First of all, you are in control of your days and your life because YOU are determining what has to be done in that day. You get to choose what to do and what not to do. In a sense, keeping a to-do list can give your life freedom!
Now, when you achieve the goals and tasks you wanted to, it is a very proud feeling. Whenever I cross off a task, I feel relief wash over me and it feels amazing to know that I am crushing what I set out to do today. Better yet, to see all of your tasks for that day be crossed of, I can sleep peacefully, knowing that I did everything and I can relax the next day.
Accomplishing what you planned is a great feeling, and having a to-do list can help you do exactly that!
Cons:
So while there are pros to having a to-do list, there are also cons. Not everything is perfect, and everything has its good and bad sides to it. Here are 5 cons that may affect the benefits of a to-do list:
1. They can make you stressed & overwhelmed
The first con to keeping a to-do list is that it may make you feel stressed and overwhelmed. This starts when you end up writing too many tasks on your list, and you may feel like you won't be able to get it all done in a certain period of time. This would lead to procrastinating and putting it off to the next day, which only increases the stress of having to do the task.
This happened to me one time, and I ended up not doing anything productive that whole day. This led me to feeling guilty, and I promised myself that I would never write too many tasks in one day and would split them up into different days and times.
2. They are not elaborate enough
Just by writing a couple of words of what task you have to do doesn't give enough information about the task as a whole. On your to-do list, you most likely don't have the exact time it will take to complete the task, when you have to complete it by, and what time of day you have to do it. I certainly don't.
With your list, you might not be able to determine what to work on first and which tasks to prioritize. This may even end up to wasting time on what you actually what you want to do and when.
Not knowing which tasks will take longer than planned can blow up your whole to-do list; again causing stress and uncertainty.

https://www.essentiallifeskills.net/creating-todo-lists.html
3. They can be never-ending
A to do list is never ending. Sometimes, you may end up doing tasks that are not written on the list due to a sudden requirement, and leave your tasks behind. Or if you completed your tasks beforehand, something else may be added to the list and you may have to do that instead of relaxing. So the list can be never ending.

https://medium.com/reinvent-yourself/should-you-make-a-to-do-list-6427fadd45f3
Sometimes, you may suddenly remember that you have to do a task midday and this only adds on to the never-ending list of things to do. This happens to me a lot, and I always feel at least 10% less motivated to keep working.
4. They do not include relaxation
On your to-do list, have you ever wrote the words, "relax?" For me, that's a no.
To-do lists are all about work, work, and work. They do not specify a time for relaxation, and this may end up with you feeling burned out. We sometimes get too caught up in our work that we forget to take a deep breath and just relax.
To-do lists may help with productivity, but working while feeling mentally drained without a break is not the most efficient way to get things done.
Life is not about working 24/7, it is about having fun and living in the moment. We should always remember this, but for some of us, to-do lists might make us forget this important fact!
5. They may promote procrastination
Last but not least, to-do lists may promote procrastination, which defeats its purpose. I can relate to this one the most, as I always end up doing the easiest tasks first and procrastinating on the ones that are the hardest or take up the most time. This leads to the important tasks not being done, which is the opposite of being efficient and productive.
The Takeaway:
To-do lists are just one out of many tools you can use to stay organized and be successful. However, they may not be for everyone. To help you understand whether a to-do list might help you, here is a recap of the 5 pros and cons of a to-do list:
Pros:
They are structured and give you a clear game plan
They help you stay on track
They increase productivity
They develop discipline
They give you a sense of control & accomplishment
Cons:
They can make you stressed & overwhelmed
They are not elaborate enough
They can be never-ending
They do not include relaxation
They may promote procrastination
Even with these tips, you should still try it out. There's no harm in using a to-do list for one week and seeing how it goes. After you do test it out, let me know in the comments whether you think you will continue using it or not!
When I used to make a running to-do list that didn't have specific tasks to certain days, I would write it on the Inbox of Momentum, the extension added on my computer. Later, at the beginning of 2021, I bought this planner. This planner is pretty open to whatever you have to write, and doesn't have specific sections for "goals", "to-do," or more. If you're looking for something that has specific sections to write certain things in, I would recommend looking for other types of planners and organizers.
You can decide whether you want to make your to-do list digital or on paper. Speaking of digital vs. analog, be sure to check out this blog on digital vs. analog productivity systems!
To help make your to-do list as helpful as possible, it may be helpful to lay down some rules on what you can include. For me, I don't include things that are already integrated into my routine, like meditating or working out. The rules can be entirely up to you, as the main purpose is to avoid procrastination and task avoidance without crazy clutter and constant migration of unimportant tasks.
I hope this blog gave you a better understanding of to-do lists and whether or not you want to use it. After considering the pros and cons, decide what works best for you and go after it. Regardless of whether you use a to-do list or not, I wish you all the best in being productive and accomplishing all your goals!
Next Steps
If you enjoyed this post, please make sure to comment your thoughts below and share it on social media!
Check out more content for:
Use this link to sign up for a brokerage account on WeBull and get TWO FREE STOCKS valued up to $1400 when you fund your account!
Learn how I was able to make $1,000/month as a teenager and quit my job by freelancing on Fiverr!
Join The Group Of Teens Dedicated To Achieving Financial Freedom
Disclaimer: Some of the links used on this site are affiliate links. At no additional cost to you, we receive a commission each time you purchase something through our link. It helps us cover the costs of running this blog. We only recommend the best products available.
Disclaimer: We are not experts or certified financial advisers. Our advice for you based on what has worked and continues to work for us. If financial problems occur we are not responsible for them and advise that you speak to a professional. That being said, we believe wholeheartedly that the advice we give to you will help your financial situation greatly.