Read This Book To Get Rich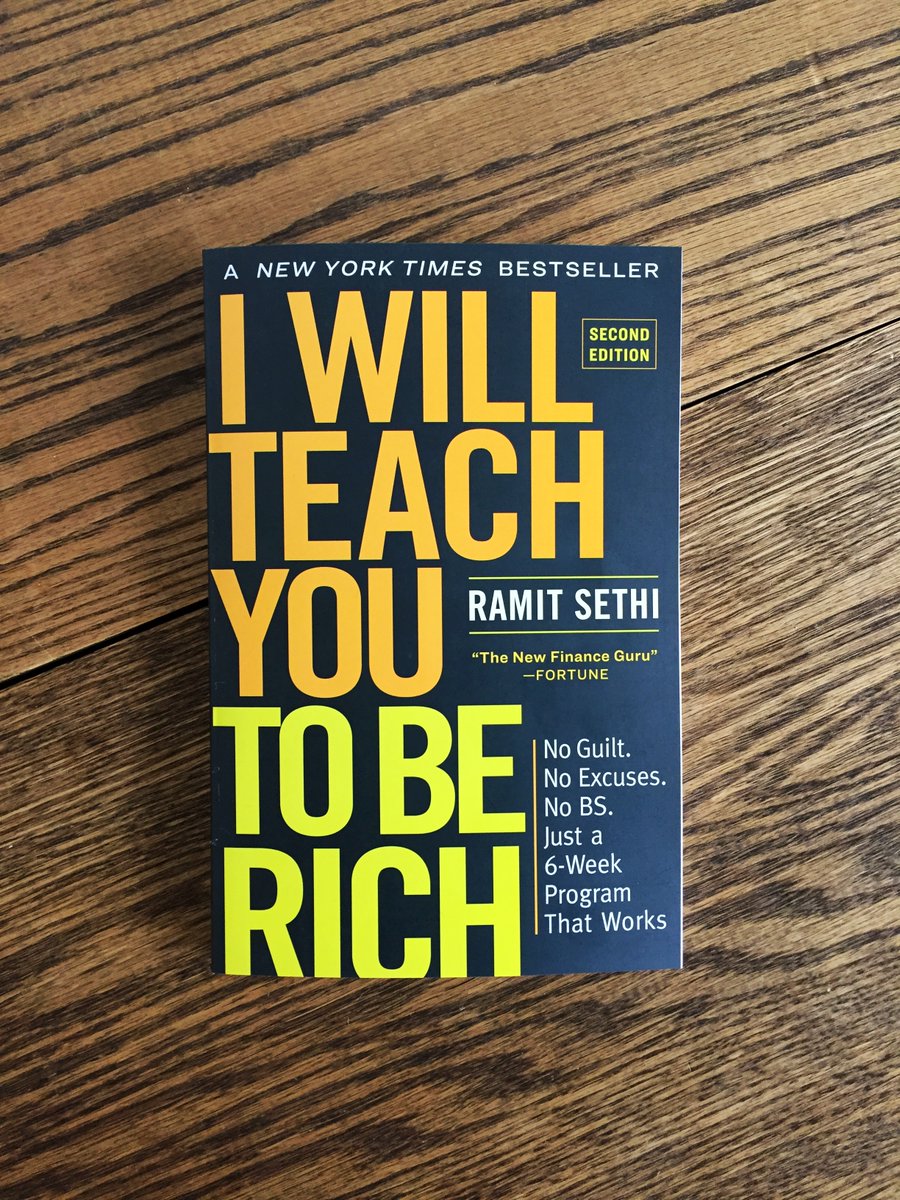 Welcome to my first blog post on TFF, Read This Book To Get Rich!
One of my favorite coaches (who used to work in the finance industry) gifted me the most amazing book this summer, and it really made starting my personal finance journey a lot less confusing. I Will Teach You To Be Rich (Br Ramit Sethi) is a New York Times Best Seller, and a really popular personal finance book for young people.
If you're completely new to personal finance and feel completely overwhelmed by the water house of free information on the internet, this book is absolutely for you. I've always struggled with googling information because, at the end of the day, most sources aren't telling you exactly what you need to do to reach your goals. There are plenty of YouTube videos, blog posts, and online courses that claim to "make you rich", or "sell-out", etc. But those resources tend to be filled with well, a bunch of crap.
This book absolutely shook me because of the straightforwardness and complete honesty that comes from it. It's an absolute BS-free read, that tells you exactly what you need to do, how to do it, and what not to do. Ramit is so open with his finance teachings that he even tells you exactly what bank accounts, credit cards, and methods that he personally uses. There's no hiding of anything in this book.
The big part of I Will Teach You To Be Rich, is that it sets up your financial infrastructure in a 6-week program that takes about 40 hours to complete (and as a debt-free teen it will take even less time). Each chapter finishes with a to-do list, with absolutely no plugs or paid online references. The only cost for setting up your financial infrastructure for lifetime millionaire success is the purchase of this eight-dollar book. Yep. Eight bucks.
What You Will Learn
Optimizing Your Credit Cards – How to beat the credit card companies at their own game
Beat the banks – Open high interest, low-hassle accounts and negotiate fees like an Indian
Get Ready to Invest – Open your 401(k) and Roth IRA – even with just $50
Conscious Spending – How to save hundreds per month (and still buy what you love)
Save While Sleeping – Making your accounts work together – automatically
The Myth of Financial Expertise – Why professional wine tasters and stock pickers are clueless – and how you can beat them
Investing Isn't Only for Rich People – Spend the afternoon picking a simple portfolio that will make you rich
How to Maintain and Grow Your System – You've done the hard work: Here's how to maintain (an opitimize) your financial infrastructure
A Rich Life – The finances of relationships, weddings, buying a car, and your first house.
The Add-Ons For Teens
So what's the catch? Well, there really isn't one for adults. The book is inexpensive, with everything you need, and no BS. But there is one little downside for teens, and that simply is that the book wasn't written for minors. As teens, we all know that our journey to personal finance has a few more bumps in the road since we're minors, and technically need a parent's name under most of our pursuits (investing in stock, opening a business, etc).
As an addition to this blog post, I wanted to write a little "guide" of sorts for, I Will Teach You To Be Rich that includes the small things we as teens need to do to complete each step.
Chapter 1 – If you're under 18, you won't be able to open a credit card and start building your credit score. Although this is a big bummer, there's a bit of a tricky way to at least start building your credit score as a teen. Having your parent add you as an Authorized User to a credit card, alows you to build your credit score based off of your parent's prefomrance. Kinda crazy, right? This means that you can build your credit score without spending a dime.

I do think that bringing a credit card into your everyday financial life is really helpful, and builds habits that will really pay off in the future. Talk to your parents about opening up a card that you can practice using after reading Chapter one and finding the best card for you on bankrate.com (I highly recomend the Discover It Card).

Chapter 2 – No additions needed!
Chapter 3 – This chapter may not be as relevant when you're still under 18. But if you have a job with an employer that offers to match your 401(k) investments, definetly talk to your employer about it. P.S. – when your employer matches your 401(k) contributions, you're basically gaining free money by investing in yourself! So, if you're stilling looking for a job and would really like to apply this chapter asap, I highly recomend checking out the company's 401(k) offerings.

Starbucks matches up to 5% to your 401(k)! Here are some other companies to check out.

Chapter 4 – No additions needed!
Chapter 5 – You might need a parent's help for the actions of this chapter, simply because they're most likely the primary holders of your joint accounts.
Chapter 6 – No additons needed!
Chapter 7 – In addition to Ramit's basic investing set up, here are some other resources you might be intersted in. If any of this sounds too complicated, no worries, stick to the steps of the chapter. But if you're ready for more, I highly recommend checking these out! These are also great alternatives for the long term investments in the chapter, and are good for getting started with investing.

If you'd like to test out more advanced investing without spending anything yet, check out Webull Paper Trading. Webull has a bit of a learning curve, but is free to download and free to paper trade with.
Check out Start Engine to discover really cool startups that need funding. This is technivaly a high risk investment, but as a teen I think it's awesome to discover a brand you really like and see where it goes. The next time you get birthday money, you might want to see which start up could possibly triple it on Start Engine. (I recently just invested in Bobaccino, and I'm super excited about it!).
Want to start investing in Real Estate really soon, without a lot of money? Check out Fundrise.

Chapter 8 & 9 – No additions needed!
The Take Away
This book is an absolute necessity for anyone starting their personal finance journey, and it will help build your foundation and confidence so that you can continue to grow financially. I hope this list of additions was helpful for you! If you've read I Will Teach You To Be Rich, and have any additional comments for minors pursuing the 6-week program, comment down below.
Feel Free to:
Reach out to me via Instagram or email 🙂
Next Steps
If you enjoyed this post, please make sure to comment your thoughts below and share it on social media!
Check out more content for:
Use this link to sign up for a brokerage account on WeBull and get TWO FREE STOCKS valued up to $1400 when you fund your account!
Learn how I was able to make $1,000/month as a teenager and quit my job by freelancing on Fiverr!
Join The Group Of Teens Dedicated To Achieving Financial Freedom
Disclaimer: Some of the links used on this site are affiliate links. At no additional cost to you, we receive a commission each time you purchase something through our link. It helps us cover the costs of running this blog. We only recommend the best products available.
Disclaimer: We are not experts or certified financial advisers. Our advice for you based on what has worked and continues to work for us. If financial problems occur we are not responsible for them and advise that you speak to a professional. That being said, we believe wholeheartedly that the advice we give to you will help your financial situation greatly.