Inspiring Quotes about Financial Freedom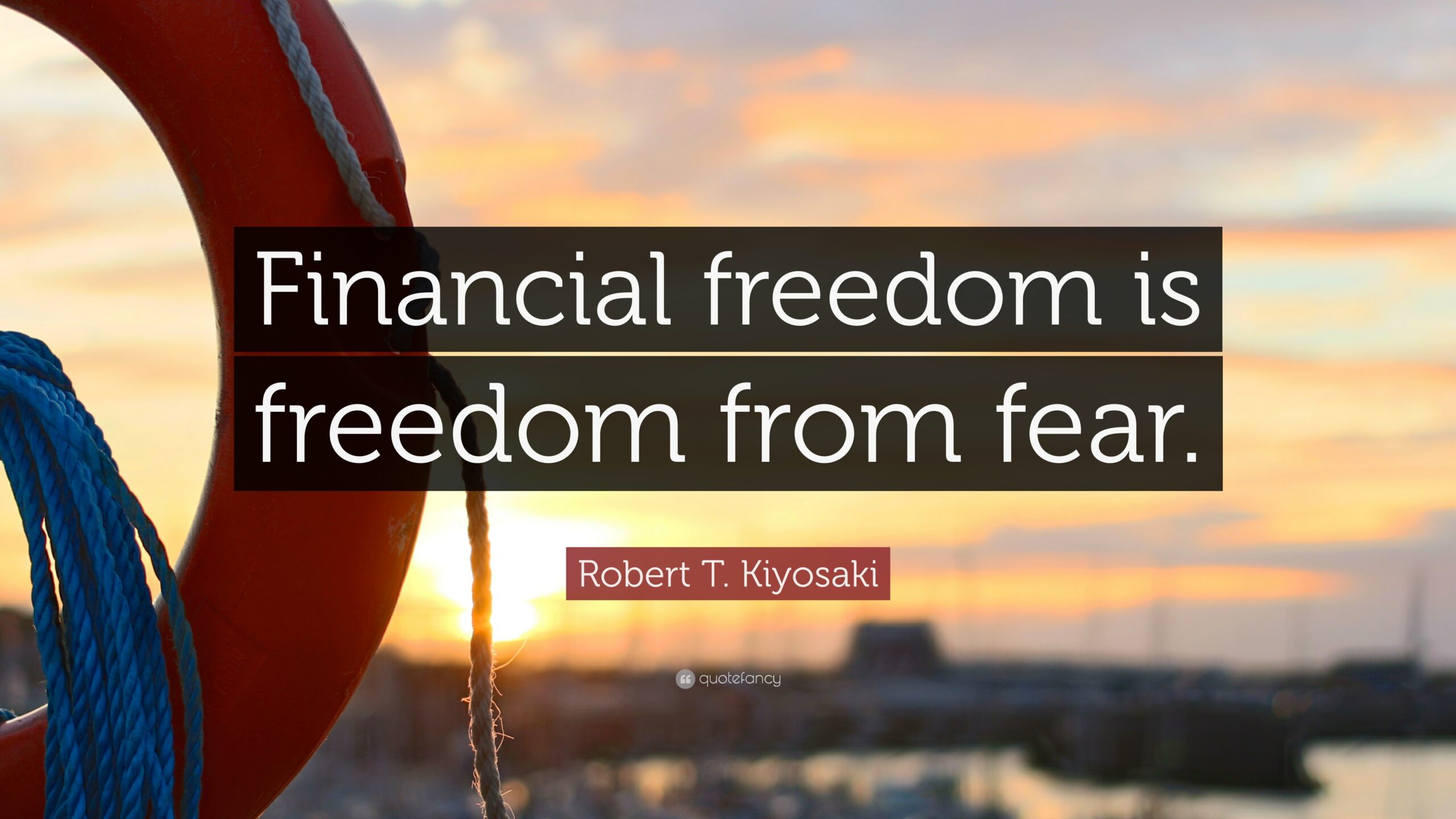 Welcome to this post about inspiring quotes about financial freedom!
Imagine a life where you had not only the money to live a comfortable life, but the time and freedom to do whatever you want, whenever you want. Imagine a life where you not only own expensive cars and huge properties, but you also own a calm mind and an undisturbed essence. And lastly, imagine if you not only achieve your financial goals, but your life goals as well.
To start out this blog, it is vital to understand what financial freedom is. The truth is that financial freedom means different things to different people. However, the exact words by daveramsey.com is this: Financial freedom means that you get to make life decisions without being overly stressed about the financial impact because you are prepared. You control your finances instead of being controlled by them.
Sure, money is not everything in life and should not determine your happiness, wealth is crucial to have the financial resources you need to take control and improve your life. "Reaching this kind of financial empowerment is a respectable and admirable goal, but first, you must understand what that really means to you." (success)
Building wealth is possible regardless of your financial situation or education. However, your beliefs about money play a huge role in whether or not you finish rich. Achieving financial freedom is a goal for many of us, but getting there seems out of our reach as it can be hard to know where to start. So, why not look to those who have been there and done that for inspiration?
From investor Warren Buffett to businessman Robert Kiyosaki, this blog lists 25 eye-opening quotes on what financial freedom is and how to achieve it. With 25 new perspectives, you can change and improve your perspective on money to get what you want in life! So, without further ado, here are inspiring quotes about financial freedom:
1. "When you understand that your self-worth is not determined by your net-worth, then you'll have financial freedom." – Suze Orman
Your net-worth doesn't define your self-worth and certainly doesn't define who you are as a person. This quote is a perfect reminder that there is so much more to life than money. Financial freedom is about having money, but it also realizing that money is not everything and taking the time to enjoy the things that really matter. Your self-worth is about who you are as a person, your experiences, growth, personality, and goals. While you should know that your net-worth is a statistic that you can and should work on, your self-worth is not determined by that.
2. "Real wealth is not about money. Real wealth is: not having to go to meetings, not having to spend time with jerks, not being locked into status games, not feeling like you have to say 'yes,' not worrying about others claiming your time and energy. Real wealth is about freedom." – James Clear
3. "I will tell you how to become rich. Close the doors. Be fearful when others are greedy. Be greedy when others are fearful." – Warren Buffett
4. "Getting rich takes focus, courage, knowledge, expertise, 100% of your effort, a never-give-up attitude, and of course a rich mindset. If you are not fully, totally, and truly committed to creating wealth, chances are you won't." – T. Harv Eker
5. "The reason I've been able to be so financially successful is my focus has never, ever for one minute been money." – Oprah Winfrey

Out of all the quotes in this blog, this fifth one really stands out to me. Not because it's by Oprah (though, that is really cool), but because of the deeper meaning beyond these words. When I first looked at this quote, I thought "How is she so rich if she never thought about money?" You may have the same question as well, so here's how I see it:
When people become so obsessed with money, they begin to lose focus on what's going on in their own life, their job, their family, and their goals. These individuals think that money can solve all their problems, but in reality, it's only hurting their lives because they become arrogant and materialistic. Here's the secret: While money is important, it's not everything in life. And, to earn money, you must keep your head in the game (life) so that while you work hard at your job and achieve your goals, you're also earning money.
6. "I can understand wanting to have millions of dollars, there's a certain freedom, meaningful freedom, that comes with that. But once you get much beyond that, I have to tell you, it's the same hamburger." – Bill Gates
7. "I never thought about becoming wealthy. It never crossed my mind. What really motivated me was to try to accomplish something." – Sheldon Adelson
8. "Wealth isn't the same thing as intelligence." – Larry Ellison

9. "When I look back on whatever my past has been and the successes, my greatest rewards have been the people and the relationships that I've had. The money has been an accident. I mean, it's a good accident, but I happened to be playing a game that I love." – Ray Dalio
10. "There are two types of people in the world: those who try to fit their lifestyles into their wages and those who create their own lifestyle by setting their own wages. Unfortunately, more than 90% of the people in the world work for money. They let money control their lives and tell them what to do." – Daniel Ally
11. "The road to wealth is fraught with traps and pitfalls, and that's precisely why most people don't take it. They don't want the hassles, the headaches, and the responsibilities. In short, they don't want the problems." – T. Harv Eker
It's no secret that becoming wealthy takes hard work, dedication, effort, and more. It requires you to keep going despite all the hardships, keep waiting despite all the days that go by, and keep working despite the longing for a break. And for this very reason, people will take one wrong turn that turned their backs towards having a financially free life. However, if they would have gone the path that only legends have walked through, they would have been able to enjoy life with no worries and no stress. I'm not sure about you, but without a doubt, I would rather endure hardships to enjoy life after than to walk an easy path with no reward.
12. "The single biggest financial mistake I've made was not thinking big enough. I encourage you to go for more than a million. There is no shortage of money on this planet, only a shortage of people thinking big enough." – Grant Cardone

13. "The secret to wealth is simple: Find a way to do more for others than anyone else does. Become more valuable. Do more. Give more. Be more. Serve more." – Tony Robbins
14. "Being rich is having money; being wealthy is having time." – Margaret Bonnano
If you search up rich and wealthy on the dictionary, they may have similar definitions, but in reality, there lies a huge gap between the two words. As said in the quote, being rich is merely having money, while being wealthy is having time to enjoy life and live the best life they can. You can always make more money, but time is a nonrenewable source. Every second of what we do contributes to how we spend our time and live life. It is important to know this distinction so that we can build wealth in a way that frees up time so we can be truly wealthy.
15. "To get rich, you have to be making money while you're asleep."  – David Bailey
16. "Working because you want to, not because you have to is financial freedom." – Tony Robbins
17. "To become financially independent you must turn part of your income into capital; turn capital into enterprise; turn enterprise into profit; turn profit into investment; and turn investment into financial independence." – Jim Rohn
18. "Financial freedom is freedom from fear." – Robert Kiyosaki

While financial freedom is having the money to afford the life we desire, it also grants us freedom from fear, not having to worry about changes and new opportunities. There are many examples of individuals who were scared to quit their job because of money, feared moving because they weren't sure about the opportunities they would get, and more. But, being fearful only drifts us apart from new opportunities, higher positions, and happiness. Financial freedom makes all these fears disappear so we can take action and work hard for new results.
19. "More important than the how we achieve financial freedom, is the why. Find your reasons why you want to be free and wealthy." – Robert Kiyosaki
20. "The goal isn't more money. The goal is living life on your terms." – Chris Brogan
21. "Your economic security does not lie in your job; it lies in your own power to produce—to think, to learn, to create, to adapt. That's true financial independence. It's not having wealth; it's having the power to produce wealth." – Stephen Covey
22. "It is not the man who has too little, but the man who craves more, that is poor." – Seneca
We often think that those who live in mansions, drive expensive cars, and wear luxury clothes are the ones who are the richest and wealthiest. However, that is not necessarily true. If we keep wanting more and more, we get stuck in a limitless cycle of being poor. Holding more possessions does not make one richer, in fact, it only makes them poorer. If we enjoy the things we already hold, and stay grateful, we can enjoy what we have and build a wealthy life around what is truly important rather than chasing after a materialistic life.
23. "The philosophy of the rich and the poor is this: the rich invest their money and spend what is left. The poor spend their money and invest what is left." – Robert Kiyosaki
24. "I remember saying to my mentor, 'If I had more money, I would have a better plan.' He quickly responded, 'I would suggest that if you had a better plan, you would have more money.' You see, it's not the amount that counts; it's the plan that counts." – Jim Rohn

25. "You must gain control over your money or the lack of it will forever control you." – Dave Ramsey
The Takeaway
Financial freedom is not a get-rich-quick strategy, nor does it mean that you are free from the responsibility of managing money. As you can tell by the quotes above, it takes a lot of hard work, time, and effort. But, in the end, it will all be worth it!
Even though different individuals, who have experienced financial freedom in different ways, wrote these quotes, they share one commonality: They don't measure success by the amount of money they make. Money isn't the end goal and it doesn't define them, but it's important to invest it wisely if you want to build more wealth down the road. (businessinsider)
While gathering these quotes, personally, I've learned that money is not everything in life, and if we believe so, we will only be stuck in the endless cycle of being poor. If we focus on ourselves, our goals, and our progress, we will not only be gaining riches, but also wisdom.
For more advice on achieving financial freedom, check out this blog on how to set financial goals in 2021. Along with that, I highly recommend the book, "The Total Money Makeover: Classic Edition: A Proven Plan for Financial Fitness" by Dave Ramsey. Last but not least, be sure to watch this TEDx Talk video on building a new generation of financial freedom seekers.
Good luck on your journey to achieving financial freedom! Be sure to comment below on what your favorite quote is. I wish you all the best!
Next Steps
If you enjoyed this post, please make sure to comment your thoughts below and share it on social media!
Check out more content for:
Use this link to sign up for a brokerage account on WeBull and get TWO FREE STOCKS valued up to $1400 when you fund your account!
Learn how I was able to make $1,000/month as a teenager and quit my job by freelancing on Fiverr!
Join The Group Of Teens Dedicated To Achieving Financial Freedom
Disclaimer: Some of the links used on this site are affiliate links. At no additional cost to you, we receive a commission each time you purchase something through our link. It helps us cover the costs of running this blog. We only recommend the best products available.
Disclaimer: We are not experts or certified financial advisers. Our advice for you based on what has worked and continues to work for us. If financial problems occur we are not responsible for them and advise that you speak to a professional. That being said, we believe wholeheartedly that the advice we give to you will help your financial situation greatly.