How To Start A Screen Printing Business in 2022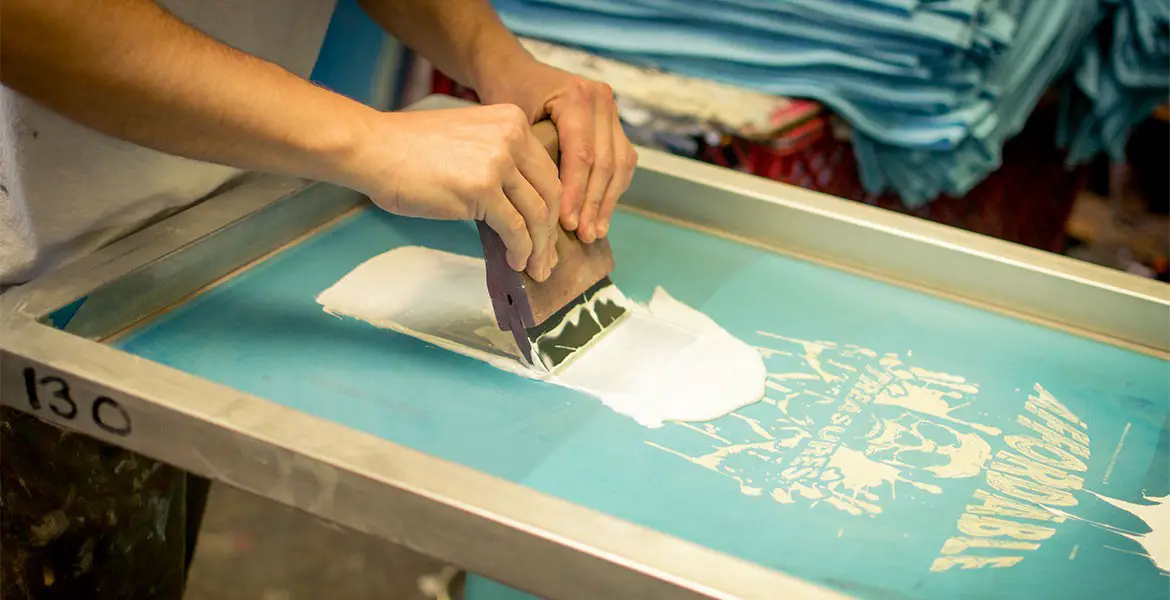 Welcome to this post about how to start a screen printing business!
In one of my old posts, I wrote about how to start a clothing business as a teenager. I didn't know it then, but that post is now our most popular post here on Teen Financial Freedom.
That post was written because I was just about to start a custom clothing business myself. I had done tons of research about it, therefore I felt I was knowledgeable enough to write a post about it.
While that post covered the basics, there is so much more that needs to be discussed. Today, I want to talk about one aspect of that post in more depth, and that is, how to start a screen printing business.
Heat Press Business
Shortly after I wrote that first post, I took the plunge and bought some equipment to start a custom clothing business. I decided to go with the heat press method instead of the more popular screen printing method.
After lots of trial and error, I was able to make some shirts and actually sold enough to make my business profitable. However, I still wasn't happy with the products. So, I decided to bring a friend in and reinvest into some screen printing equipment.
Screen Printing Business
Recently, I brought a friend into my business, and together we purchased new equipment to start a screen printing business. We just got our equipment a few weeks ago, therefore we still are in the process of getting setup.
However, we've already made plenty of mistakes and learned a ton! That's what I hope to share with you today. I wanted to tell you everything I've learned about starting a screen printing business.
What is Screen Printing?
Screen printing involves printing ink directly onto blank t-shirts that dies the fabric and transfers your design to the shirt.
It all starts with the screen. A screen is made up of a frame that has a mesh going across it. The mesh consists of small holes that are just big enough for the ink to be pushed through.
The first step involves coating the screen with photo-sensitive emulsion. The emulsion then dries in complete darkness.
Once the emulsion is dry, the screen is ready to be exposed to light. Before the screen is exposed, the emulsion is dry, but can be easily washed out with water. After the emulsion is exposed to light, it won't wash out unless you use special chemicals to break up the emulsion.
To expose the screen, you place a piece of transparency paper on top of your screen. This transparency paper has your design in black so the light can't get through. The screen is then exposed and any area NOT covered by the transparency paper is cured. The area that is covered by the transparency paper has not been fully cured and therefore can be washer out with water.
After it is washed out, you're left with a screen covered in emulsion that has your design in it. The only place the ink can go through is where the design goes because the rest of the screen is covered with emulsion.
Which means that when you push the ink across the screen on top of a shirt, the ink will print your design on to the t-shirt!
I know that was kind of complicated, so watch this video for a visual explantion:
Heat Press vs Screen Printing
First things first, we need to talk about the difference between the heat press method and the screen printing method. I've now done both, and I can see the advantages and disadvantages of both.
Start-Up Cost
Starting a heat press business is definitely the cheaper option. My heat press equipment cost around $500, while the screen printing equipment cost over $1,000. You'll hear some people who start custom clothing businesses for less than that, and a lot of people who start for way more than that. I tried to only buy the bare-essentials when I first started, but I also didn't buy cheap equipment that wouldn't work properly.
Reoccurring Cost
While the screen printing equipment costs more upfront, it is a lot cheaper in the long run. This is because the supplies cost a lot less and you're able to mass-produce. Lower costs mean lower prices, and lower prices mean more customers!
Messiness
Screen printing is much more messy than using a heat press. With the heat press, you're dealing with pieces of paper. With screen printing, there's ink, emulsion, chemicals, and water that all tend to get everywhere.
Quantities
The heat press method is great for doing small quantities of shirts. It doesn't take very long at all to make a few shirts. However, it is very time consuming to make large quantities of shirts with the heat press. Screen printing is the exact opposite. It takes a lot longer to make one shirt and it doesn't take as long to make a large quantity of shirts. Because of this, you're able to offer better bulk discounts with a screen printing business.
Quality
The last and most important factor is the quality of the shirts. This is where screen printing dominates over using a heat press. The heat press bonds transfer paper (actual paper) to the shirt. This paper sits on top of the shirt and therefore doesn't last very long. Screen printing involves putting ink on the shirt, which actually dies the fabric a different color. Therefore, these designs last as long as the shirt does. When it comes to business, the quality of the product or service you offer should be your #1 concern.
My Recommendation
I would recommend using the screen printing method over the heat press method. While screen printing does cost more up front, is messier, and is harder to do small quantities, it is cheaper in the long run and produces much higher quality shirts.
What Equipment Do You Need To Start A Screen Printing Business
Starting a screen printing business does require a lot more equipment than a heat press business, so I thought I would give you guys the list of things that we have purchased so far. This list will tell you everything that you need to start a screen printing business.
All and all, our equipment cost us just over $1,000. However, your total cost will differ depending on your individual circumstances.
For example, we did almost everything DIY, which means that our costs were a lot lower than what other people spend. Doing things DIY meant that we also had to spend money on wood, screws, etc. to build everything. We also spent $400 on our press (which is 4 station 1 color), while you can find lower-quality ones for $200.
Nonetheless, I think that $1,000 is a good estimate of how much it should cost you to start a screen printing business.
How Much Money Can You Make From Screen Printing?
As always, it depends. I can't tell you how much money you'll make, but hopefully I can give you an idea.
Our goal is to have a gross income of $20,000 over the next year. This may sound like a lot or a little to you, but I think it's a reasonable goal for us. Of that $20,000, our expenses will probably be around $10,000, which means that my friend and I would each pocket about $5,000 of profit.
A year's worth of work for $5,000 is actually pretty low. But, you have to keep in mind that we are teenagers with other obligations like school, sports, and other activities.
In reality, it just depends on how much work you put into your business. There are many screen printing shops that make thousands of dollars every month. There are others who hardly ever work on their business, and as a result, make very little money.
How To Price Your Shirts
Pricing is very complicated is any business, and it's no different with a screen printing business.
First and foremost, you need to estimate your cost. Our cost per shirt is $5.35. That includes $3.00 for the shirt, $2.00 for labor, and $.35 for other supplies.
After you have that, you can start creating your pricing. Keep in mind that with screen printing, it's a lot easier to do large quantities than to do small quantities. This means that you can offer a bulk discount to your customers.
Here's our pricing table that we are using for our screen printing business.
| | | | | | | |
| --- | --- | --- | --- | --- | --- | --- |
| Quantity | 1-2 Shirts  | 3-10 Shirts  | 11-20 Shirts | 21-50 Shirts | 51-100 Shirts | 101+ Shirts |
| Price Per Shirt | $12 | $10 | $9 | $8 | $7 | $6 |
This is our baseline pricing, and there are several other items that get factored in. Some other things to consider are the number of sides you are printing on, the number of colors you are printing with, the size of the design, etc.
Where To Find Blank Shirts
The easiest way to get blank t-shirts is to buy them online. There are several wholesalers out there that sell shirts.
However, most will require a reselling permit. This reselling permit allows you to buy shirts at a much cheaper rate and work with wholesalers near you.
In order to get a reselling permit, you'll need to register your business with the federal government by creating an LLC, sole proprietorship, partnership, etc.
Once you have done this, you'll get an EIN number that you can use to get a resellers permit.
Once you have this you can sign up with a t-shirt wholesaler, a few good ones are:
TSC Apparel
Alphabroder
Bella + Canvas
Sanmar
SS Active Wear
T-shirtwholesaler.com
Screen Printing Process
For those looking for a guide on how to screen print, these are the steps we follow:
Screens
Print 2 identical transparency papers. 
Coat screen on both sides with emulsion without light (Use two hands and make multiple passes to provide a light even coat everywhere and scrape off excess).
Let dry in the dark room for 2 hours with the fan on.
Line transparency papers up on press to see where they go.
Expose the screen with two transparency papers directly on top of each other for 7 minutes with no other light.
Wash out the design by first rinsing both sides, let it sit for 30 seconds, then spray in the design area until you find the design. Wash the design out how it should be.
Let screens dry for 30 minutes with the fan on (15 both sides).
Tape off edges and any other holes.
Printing
Fasten the screen to the press and make sure it is lined up using the micro adjusters and make sure you have off contact of 1/8th of an inch.
Place a line of ink at the bottom of the screen. 
Lift the screen off the shirt and flood the screen by pushing the ink across the screen to the top.
Set the screen down and pull the ink back across with good force at a 45 degree angle. 
Lift the press and push the ink back to the top to flood it again.
Use the heat gun in quick circular motions to flash cure the design before any other color (the entire design needs to be covered for at least 30 seconds).
Use the heat press to do a final cure of the shirt at 340 degrees for 10 seconds with a teflon paper. Make sure the entire design reaches 320-330 degrees for 10-20 seconds.
Fold up shirt.
Cleaning Screens
Wipe off any extra ink and put back in the ink container. 
Wash off excess ink in the washout booth (dilute with water as you go).
Soak each side of the screen with water.
Apply emulsion remover thoroughly to both sides of the screen. 
Let the screen sit for 30 seconds to a minute with the emulsion remover on. 
Spray off emulsion with light pressure (dilute as you go).
Use higher pressure to get anything left over.
Let dry for 30 minutes (15 minutes on both sides).
Clean with degreaser as you would with emulsion remover.
Marketing Your Screen Printing Business
A big part of your business will be making sales. In order to do that you'll need to utilize the following marketing methods:
Worth of Mouth
Social Media
Website
Ad Campaigns
Flyers
Partnerships
Working with Influencers
Promotions
Newspaper Articles
Screen Printing Tips and Tricks
Here are a few more things that we've learned along the way!
Finding a space to setup your equipment should not be overlooked. You need a space that has water access, water drainage, power access, good ventilation, and that can get dirty. We setup shop in my garage which as worked well so far.
The hardest part of screen printing is making the screens. For us, the hardest part has been learning how long to expose the screens and how to washout the design to make it high-quality. Unfortunately, the only way to improve this is with trial and error.
Double up on transparency paper to make better screens. If you print two identical transparency papers and place them on top of each other when you're exposing the screen, the light will have a harder time getting through the papers which will allow for the design to come out much easier.
Here's a few other articles that are really helpful!
The Takeaway
That's it! Now you should know everything you need to know to start a screen printing business! The only thing left to do now is get started! If you think you are ready to start a screen printing business, be sure to buy this screen printing starter kit. If you have any comments or questions, please feel free to leave them below. Otherwise, best of luck!
Next Steps
If you enjoyed this post, please make sure to comment your thoughts below and share it on social media!
Check out more content for:
Use this link to sign up for a brokerage account on WeBull and get TWO FREE STOCKS valued up to $1400 when you fund your account!
Learn how I was able to make $1,000/month as a teenager and quit my job by freelancing on Fiverr!
Join The Group Of Teens Dedicated To Achieving Financial Freedom
Disclaimer: Some of the links used on this site are affiliate links. At no additional cost to you, we receive a commission each time you purchase something through our link. It helps us cover the costs of running this blog. We only recommend the best products available.
Disclaimer: We are not experts or certified financial advisers. Our advice for you based on what has worked and continues to work for us. If financial problems occur we are not responsible for them and advise that you speak to a professional. That being said, we believe wholeheartedly that the advice we give to you will help your financial situation greatly.