Welcome to How To Promote A New Business!
If you're anything like me, you've struggled to promote your new business.
I myself have been a part of close to a dozen business ventures, and I have struggled to market every single one of them.
You can have a great idea, plan, and execution. But if you can't get customers, then your business won't be successful.
The bottom line is this, almost anyone can create a business, but only a select few will be able to promote it and actually get customers.
If you have struggled to market your business, than this post is for you! Here's how to promote a new business!
Word Of Mouth
Hands down, the best marketing method for a new business is word of mouth. This is the most powerful tool that you have as an entrepreneur.
Here's how it works. You tell everyone you can think of about your business. Eventually, you get a customer. You deliver that customer the best experience humanly possible. Then, that customer is so satisfied that they share with other people. Eventually, you'll get yourself the next customer.
I think most people, myself included, sometimes don't see the value in word of mouth simply because it doesn't seem to be worth the time and effort.
It seems like a waste of time to try to sell your service to a friend or family member. After all, what will one customer do?
Well, every business starts off small with their first customer. But the beautiful thing about word of mouth is that there is a huge exponential growth opportunity. Once you get one customer, they will share their experience and so on and so forth.
So, start with your friends and family. They will be the ones most likely to support you and your new business.
You don't have to make this a big deal or something that is awkward. Next time you see a friend or family member and they ask what's new with you, tell them about your business.
You don't need to try to sell anything, just inform them about it. Before you know it, one of those people will find themselves in need of that service, and there you go, you got your first customer. And there are many more coming your way!
Social Media
Now eventually you will want to expand to other people outside of your friends and family. And this is where social media comes into play.
Social media will allow you to inform others of your existence, and create a following for your business.
First off, social media can be used to inform others. Anytime some searches for "restaurants in Chicago", they might stumble upon your social media accounts.
Or alternatively, they could be on social media and find your account if you use hashtags or are tagged by someone else.
Nonetheless, people will see your account and get curious, and soon enough, they will become customers.
The other side of using social media is building a following. If you have a good social media profile, people will likely follow you.
When they do, use this to your advantage! Offer special deals, coupons, and events frequently on your social media. These special announcements make people feel like they are valued and that they are benefiting from following you.
Advertising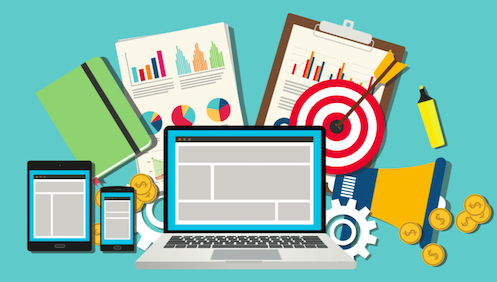 This method is similar to social media, but a little different at the same time.
With advertising, you are still trying to create an awareness and build a following.
But, you can also use this to sell your services/goods directly.
For example, let's say you sell computers. You could make an advertisement and have people purchase a computer directly from that advertisement.
I love advertising for a few reasons:
You can create your own target audience. If you know your target market, you can replicate that group and send it out to those types of people.
You can test all of your different advertisements. If you want to create multiple ads, you can run them all at once and see which perform the best.
You can have your advertisement do many different things. Your add can lead to sign-ups, email-lists, website visits, or even sales.
Advertising gives you a lot of bang for your buck. Believe it or not, you can actually get thousands of impressions for only a few dollars.
The beautiful part about advertising is that you can really do it on whatever platform you wish. You can use any social media platform, physical locations, and even other businesses.
I think the easiest way to do advertising is with Facebook ads, simply because of the infinite customization options available and the relative ease of the platform.
The Takeaway
At the end of the day, there are several options to promoting a new business. I would suggest using word of mouth, social media, and advertising, but you really can use whatever you want. The key is to build awareness, because awareness will eventually lead to your first customer. Once you get your first customer, exponential growth is right around the corner! Also, for another resource, be sure to check out the book, "How Clients Buy: A Practical Guide to Business Development for Consulting and Professional Services." Good luck!
*Note: This post is for the monetize.info scholarship, check out their website!
Next Steps
If you enjoyed this post, please make sure to comment your thoughts below and share it on social media!
Check out more content for:
Use this link to sign up for a brokerage account on WeBull and get TWO FREE STOCKS valued up to $1400 when you fund your account!
Learn how I was able to make $1,000/month as a teenager and quit my job by freelancing on Fiverr!
Join The Group Of Teens Dedicated To Achieving Financial Freedom
Disclaimer: Some of the links used on this site are affiliate links. At no additional cost to you, we receive a commission each time you purchase something through our link. It helps us cover the costs of running this blog. We only recommend the best products available.
Disclaimer: We are not experts or certified financial advisers. Our advice for you based on what has worked and continues to work for us. If financial problems occur we are not responsible for them and advise that you speak to a professional. That being said, we believe wholeheartedly that the advice we give to you will help your financial situation greatly.