How To Make Money On Fiverr in 2022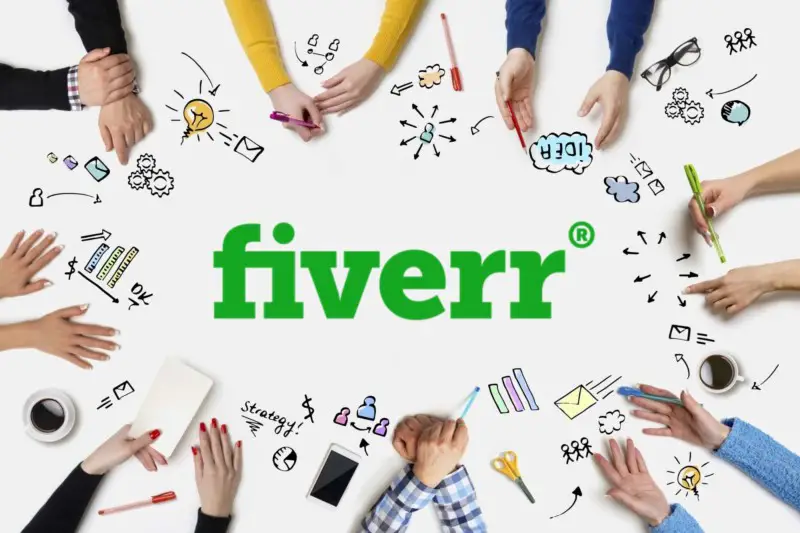 Welcome to How To Make Money On Fiverr!
About a year ago, I was casually browsing the internet looking for ways to make money online. I was trying really hard to create some sort of successful business, but nothing was taking off.
Then I stumbled upon a website called Fiverr, and I saw an opportunity. I saw all these people making hundreds of thousands of dollars on Fiverr and I was confident that I could do the same.
So I created an account and made my first few gigs. Then, nothing happened. At least not for a month, until I got my first data entry gig.
Ever since then, my Fiverr account has continued to grow to the point where I have been able to quit my job and have Fiverr be my main source of income.
The best part is that I'm my own boss, I have a flexible schedule, and I can work from the comfort of my own home.
You might be asking by now, how does someone do this? Well, this is the perfect post for you on How To Make Money on Fiverr!
What is Fiverr?
Fiverr is an online platform where freelancers can connect with clients.
Sellers (freelancers) can post gigs (jobs) about anything they want. There are some broad suggestions on the website, but you really can do whatever you want.
Sellers create a gig that shows the description, what's included, and the pricing of the gig.
Then, potential clients (buyers) log onto the Fiverr platform and search for what they are looking for. Then all of the sellers' gigs pop up and the buyer can review each individual gig.
Buyers review each gig and then can choose to order a gig. The seller then must complete the order in a certain amount of time. Buyers and sellers can communicate with each other on the Fiverr platform.
How Much Money Do People Make On Fiverr?
Here is the big question, how much money do people make on Fiverr? The answer is…it depends. Some people make no money at all and others make hundreds of thousands of dollars. In order to make sure you make money, follow all of the steps laid out in this guide about how to make money on Fiverr.
How Much Money I Make On Fiverr
I'll be transparent here and tell you exactly how much money I've made from Fiverr. I posted my first gigs in mid October, and at the time of writing this post, it is the following September. That means that my gigs have been active for 12 months. In those 12 months I have made a total of $7,891.64. That might seem big or small to you, but it's certainly a decent sum for me.
Also note that I have worked a total 225 hours on my Fiverr gigs, which works out to be working at a rate of $35/hour!
Here is the month by month breakdown of how much I've made on Fiverr.
| | |
| --- | --- |
| November | $84 |
| December | $172 |
| January | $504.77 |
| February | $1,051.55 |
| March | $1,145.70 |
| April | $1,014.40 |
| May | $1,605.42 |
| June | $283.18 |
| July | $929.90 |
| August | $750.59 |
| September | $370 |
| Total | $7,891.64 |
It actually died down quite a bit over the summer partially due to the fact that COVID-19 has shut down the economy, but mainly because I took a lot of time off where my account wasn't active. My account still hasn't recovered to where it was a few months ago.
As you can see, I did't start off making tons of money, and even now, it's not a ton of money. But, I'm a teenager. Most teenagers don't make this kind of money in a month, and hardly anyone does it from home. So I'm happy with what I have been able to achieve so far.
As this income has grown, I have been able to quit my part time job at the local grocery store.
If there's one thing that you should get from this chart, it's that it takes time to make money with Fiverr. Fiverr is not a platform that will give you an overnight success. As your account ages and you complete more orders, Fiverr tends to rank you higher. As a result, you get more orders, which means more money.
How Much Money People Make On Fiverr
The thing is, I have only scratched the surface with what's possible with Fiverr. There are thousands of people making hundreds of thousands of dollars every year on Fiverr.
Take for example this guy, named arundaskm. He is a top seller on Fiverr and has a logo design gig, one of the most basic gigs available.
His basic gig costs $80, his standard gig costs $160, and his premium gig costs $300. So for the sake of this example, let's be conservative and say that his average gig sells for $100. After Fiverr takes their cut, he gets $80 per sale.
You can also see that he has 5451 reviews on this gig. And he has 17 orders in queue. On average, 1 in every 3 people leave a review, so he has probably had something like 16,353 sales.
Let's do the math. 16,353 sales x $80 average sale = $1,308,240. Which is just insane. What's even crazier is that this guy has been a member for 7 years which means he's averaging $186,891 a year. And this is just ONE GIG. Sellers can have a max of 14 gigs as a top rated seller.
So I hope you see now how it's possible to make money on Fiverr, and it's not just this guy. There are thousands of other examples on their website. Take a look for yourself.
How Does Fiverr Make Money?
You might be wondering how does Fiverr make money? Well don't worry about them, they make their fair share. Fiverr has two main ways of making money.
They take 20% of the order revenue from the seller. So if the buyer pays $100, the seller only gets to keep $80. Think of it like a tax.
They also charge a service fee to the buyer. So if the gig costs $100, the buyer might have to put in another $5 or so on top of that as a service fee.
So if we stick with that last example, that guy really sold $1,635,300 worth of gigs. But after Fiverr took their cut, he only got to keep $1,308,240. That means that Fiverr profited $327,060 just from this one gig. So Fiverr is making millions, if not billions of dollars every year.
How To Set Up A Fiverr Account
If you're wanting to make a Fiverr account, here is the step by step guide to do so.
Go to Fiverr.com.
Sign up as a seller.
Enter the necessary information.
Choose a username wisely, people will see this.
Enter a short bio about yourself.
Upload a professional profile picture.
Create your first gig!
What Gigs Should You Use On Fiverr?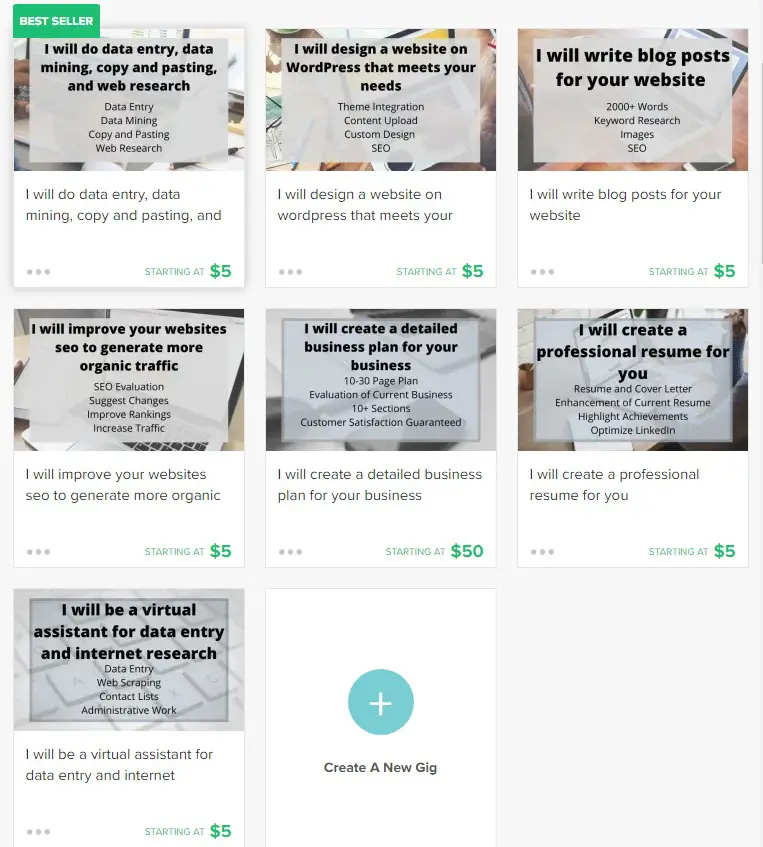 When it comes to creating gigs, you could literally create anything you want. But there are some broad categories that I suggest you follow as must buyers come to the platform looking for help in one of those areas.
The Gigs I Use
When it comes to gigs, I have 7 total. But there are really only 2 that have had success. The other ones have maybe gotten one or two sales here and there.
Data Entry: I created a gig in the very beginning saying that I would do data entry work. In cause you don't know what data entry is, it involves copying information into a spreadsheet usually. Most of the time, buyers want to find leads in a certain niche. So they ask me to find names, emails, phone number, addresses, etc. I like this work as it requires very little brain power, but it's also quite boring.
Virtual Assistant: This one is super similar to the data entry one, except it's a bit more broad. Buyers buy this gig when they need help with anything online. I love this gig because it's something new every day. The work has ranged from reviewing websites to reviewing memes.
Use Pre-Existing Skills
When you first create your Fiverr account, you should utilize any pre-existing skills you may have.
For example, I have done a lot of website design, marketing, etc. for my businesses. So when I made my first Fiverr gigs, I made gigs based around those skills.
I also am in FBLA and have competed in the business plan event for the last 3 years and gone to state each year, so I made a business plan gig on Fiverr.
So when you create your account, you should design gigs around the skills that you already have.
Think about your own life, the things you participate in, and the things you are good at. Create gigs about this skills.
How to Make Money On Fiverr Without Skills
Now I know some of you just thought to yourself, "I don't have any skills". That's a lie. You are good at something, you just need to think a little harder.
But if you need some inspiration, head over to Fiverr.com, and check out some of the gigs that other people have posted. See if any of those gigs sound familiar to you.
If you are still convinced you don't have any skills, here are a few gigs that don't require any advanced skills.
Data Entry: As I mentioned, this gig doesn't require any skill. As long as you know how to copy and paste, you can do this gig.
Transcription: If you have decent typing skills, you could do a transcription gig. This is where you listen to an audio file and write every word out into a document. Or you can convert pdf files into word docs.
Just because you don't have any skills now, doesn't mean that you can't create some. There is tons of information out there on the internet for any skill that you want to learn about. Just do a simple Google search and get access to millions of resources right at your fingertips.
How To Rank Your Fiverr Gigs
In order to get your first order, you need to be able to rank your gigs on the Fiverr search results page. When a buyer searches for something, they most likely will pick one of the first gigs that they see. So you need to have your gigs appear as high as possible on the page. Here's a few tips to help you achieve this:
Start Off With Low Prices – The key to getting your first sale is to start off with low prices. Buyers on a budget will skip over all of the expensive gigs and come straight to yours. In the beginning, your focus should be on accumulating reviews, not making money.
Copy A Successful Gig Description – If you have a gig in mind, there's nothing wrong with copying a successful gig description. Use it as an outline to create your own description that's even better than the other persons.
Make An Eye-catching Image – If your gig appears in the results of someone's search, you want to make sure that you have an eye-catching image that will cause them to click on your gig. Even if they don't buy it, a click still impacts your rankings.
Target Keywords – You should target keywords with your gigs. If you're wanting to do logo design, you should look to see if there are any similar phrases people are searching for. For example, vintage logo design, professional logo design, etc. These should be the keywords that you include in the title and in your description.
Be Online All The Time – One thing that you can do to boost rankings in be online all the time. When buyers go to search, they can choose from a variety of filter options. One of those options is "Online Sellers". If they buyer selects this filter it will limit the search to only sellers that are online. So if you are online, you have a chance of appearing in that search.
Tips On How To Make Money On Fiverr
In order to achieve success on Fiverr, I think it's important that you pay attention to these tips:
Grammar is key – There are a lot of people not from the U.S. on Fiverr, which means there English is not the greatest. If you want to know how to separate yourself from everyone else, have good grammar. Buyers will pick up on this and choose to work with someone that they feel can easily communicate with them.
Respond Quickly – When a buyer contacts you, you should get back with them as soon as possible. Fiverr takes note of how quickly you respond, and they use that as one of the factors that play into ratings.
Deliver On Time – Once you get an order, you need to make sure that you deliver it on time. Fiverr will ding you if you deliver late and your rankings will drop significantly.
Customer Service Is Everything – At the end of the day, just like in any business, customer service is everything. You need your customers to feel satisfied with your work. Your customers will be able to rate you on the 5 star scale, which is one of the biggest ranking factors on Fiverr. Always go the extra mile for your customers, even if it costs you a little bit of money and time. Trust me, avoiding a bad review will bring you much more money in the long run.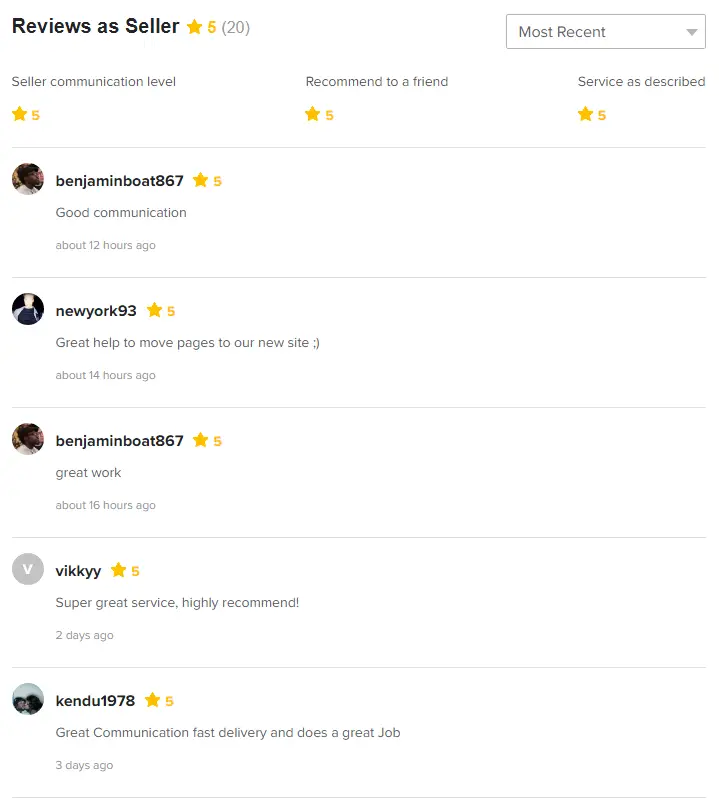 Freedom with Fiverr Course
By now I'm sure that you are a little overwhelmed with all of this information I just gave you. But the reality is, I only scratched the surface. Throughout the time I've done this, I have learned a lot about what it takes to make money on Fiverr.
That's why I'm launching a online course all about how to make money on Fiverr. I know that people usually have a negative perception about online courses, but I truly want to create something that gives so much value to those who purchase it.
I want other people to have the same success that I have had with Fiverr. So that they can quit their jobs, and live the life that they want to live.
I'm striving to make this course affordable (less than $20) which will teach people exactly how to make money on Fiverr. I want to walk through each step and along the way share as much information as I possibly can.
Head over to the Freedom with Fiverr page to view more about this course.
The Takeaway
If you want to make money online, I truly hope that this post showed you how to make money on Fiverr. To summarize, Fiverr is an online platform that allows freelancers and clients to connect. Thousands of people are making hundreds of thousands of dollars on Fiverr, and you can too. You just have to follow the steps I laid out in this post, and you'll be making money on Fiverr in no time!
Next Steps
If you enjoyed this post, please make sure to comment your thoughts below and share it on social media!
Check out more content for:
Use this link to sign up for a brokerage account on WeBull and get TWO FREE STOCKS valued up to $1400 when you fund your account!
Learn how I was able to make $1,000/month as a teenager and quit my job by freelancing on Fiverr!
Join The Group Of Teens Dedicated To Achieving Financial Freedom
Disclaimer: Some of the links used on this site are affiliate links. At no additional cost to you, we receive a commission each time you purchase something through our link. It helps us cover the costs of running this blog. We only recommend the best products available.
Disclaimer: We are not experts or certified financial advisers. Our advice for you based on what has worked and continues to work for us. If financial problems occur we are not responsible for them and advise that you speak to a professional. That being said, we believe wholeheartedly that the advice we give to you will help your financial situation greatly.