Welcome to this post about how to crush your next interview!
Imagine going to your first interview. As you walk into the room, you look towards the person that could determine the future of your career. With a lack of confidence, your posture and look on your face projects the opposite of what interviewers hope to see in excellent candidates. Even after going through several run-throughs in your head, the real one wasn't even close to what your mind imagined. Last but not least, despite thinking that you are going to answer all the questions perfectly, you freeze up and cannot even say a full sentence correctly.
I'm not going to lie, that does sound scary. No one should have to go through anything like that. Now, the only time I have been interviewed was for my school's leadership program, so obviously, it wasn't as intense as how job interviews are. The only preparation I did was listening to when my teacher was telling us all the questions he was going to ask beforehand (lol). However, I did hold a few interviews, and kind of understand what it is like. While being on the side that asks the questions, I've always wondered what it would be like on the other side; because, in the future, the interviewer is definitely not going to reveal the questions before the actual interview.
If you just graduated from college and are opening yourself up to new opportunities and careers, interviews are the first step to that journey. It may not seem like it, but you have more control than you think during an interview. Whether you have an interview in the coming week or month, are interested in crushing your interviews (even though you may not have one in a couple of years), or need to learn what to look for in a good candidate, this blog is for you! This blog will go through 10 main points on what you should do, before and during the interview, as well as some extra tips on some do's and don'ts during the interview. With the right mindset coupled with the help of these points, you can hit a home run. So, without further ado, here are 10 tips to crush your next interview:
1. Understand your audience and the company
When preparing for your interview, it is important that you know what role in the company you are applying for and who is going to be interviewing you. In order to stand out from all the other companies, you must provide more than what the average candidate would. The average candidate is someone who would satisfy the roles of the job, while a candidate who stands out knows how to satisfy the whole company's needs. It helps to review articles about the company's past, present, and future, so that you know how can add value to the company.
Along with this, you should research your interviewer beforehand, as it is, ultimately, up to he/she on whether or not you would get the job. You should learn what specific concerns the interviewer has regarding the business. This will help you come up with questions regarding that address the interviewers' concerns and prepare some thoughts on how you can improve what the interviewer is focused on in the business.
2. Use action words
Use action words. In the example above the words "established," "facilitated," "coordinated," "moderated," and "developed" are all action words. Example: "Tell me about the work you did in your most favorite job?"
Bad answer: I loved my job two years ago because I was responsible for team engagement and new employee onboarding and it was very rewarding.

Good answer: I loved my job two years ago because I championed team engagement by leading quarterly brainstorming sessions, developing and implementing engagement programs like Job Shadowing for new employees, and facilitating b-annual engagement feedback sessions with the VP. It was really rewarding to see engagement scores increase and to get positive feedback from the team.

https://www.ellevatenetwork.com/articles/7338-how-to-crush-your-next-interview
By using action words, you are showing that you know what you are doing and how to get the work done.
3. Practice makes perfect
There are many interview questions that are so common that they are cliche. Some of them include:
Where do you see yourself in 5 years?
How do you handle conflict within the team?
Tell me about a time you failed.
Glassdoor offers a list of company-specific questions, and it helps to prepare thoughtful answers to those questions. Even if those exact questions aren't asked, you will be able to answer similar questions.
You will also hear many interviewers ask about yourself, so check out this in-depth video of Dan Lok explaining how to answer this question!
4. Tell stories
There will be many questions thrown at you about "describing a time when you…" or "telling them about a time when…" Each of these questions gives you a chance to tell a story, and while may it may tempting to answer the question immediately, it is important that you think before you speak. In your own head, visualize something that you can tell them to make them remember your story.
Don't say yes or no, and don't give a one-word answer. For example, if someone were to ask about your greatest weakness, you wouldn't just say what your weakness is and be over with the question. Instead, you should state your weakness, tell a story when you realized what it was, and how you plan on improving at it. This would not only provide a good story, but also show them that you plan on improving!
5. Project confidence
The toughest thing to handle in your job interview won't be the interviewer or the questinnaire. It will be your own self-confidence.
Confidence without being arrogant is what a successful candidate should project. By being confident, you are showing that you trust yourself. And, this will also help the interviewer gain trust in you. If you tell yourself that you are confident, you'll be able to give more insightful and analytical answers to the questions. Be sure to have a firm handshake, make eye contact, and sit straight.
6. Be genuine
It is easy to lie during any interview, thinking that the non-truthful answer may actually give you a better shot at landing the job. However, this is not true. During any interview, you should always be genuine and true to yourself.
Many interviewers will ask about your greatest weakness, as that is a common question to ask during any interview. People may say, "I am a perfectionist," or "I care too much." If you can't already tell, that is so NOT an honest answer. If you're lucky, the interviewer will give you one more chance to answer the question truthfully.
Being authentic shows humility, self-awareness, and the ability to grow. Whenever you're asked that question, you should say what your true weakness is and how you plan on making your strength.
7. Listen for cues for connections
Especially when there's a big experience or age gap between you and the interviewer, it's up to you to find ways to connect. Listening is the way to do it.

It may be connecting around the interviewer's specific goals for the company or small talk she made before the interview began. Latch on to those as ways for her to remember you.

Dougherty said he recently had a terrific interview with a woman who mentioned a photographer he hadn't heard of. The next day the candidate followed up with an email thanking him for his time and linking to information about the photographer and why his work might be great for the organization.

That's a candidate who made a lasting impression.

https://money.cnn.com/2017/05/23/pf/interview-hacks/index.html
8. Ask questions
It may seem like there are two and only two different roles during an interview – the person asking questions and the person answering them. However, this is not true during a real interview, as you can ask questions! You are not only supposed to answer questions, and this is important to remember during your next interview.
By asking questions, you are showing the interviewer that you are interested in the job and are ready to get to the next step. Along with this, you can also gather information for yourself that is valuable to help you decide whether you even want the job or not.
Just a quick tip, be sure not to ask, "When will you make your decision?"
9. Make a good first impression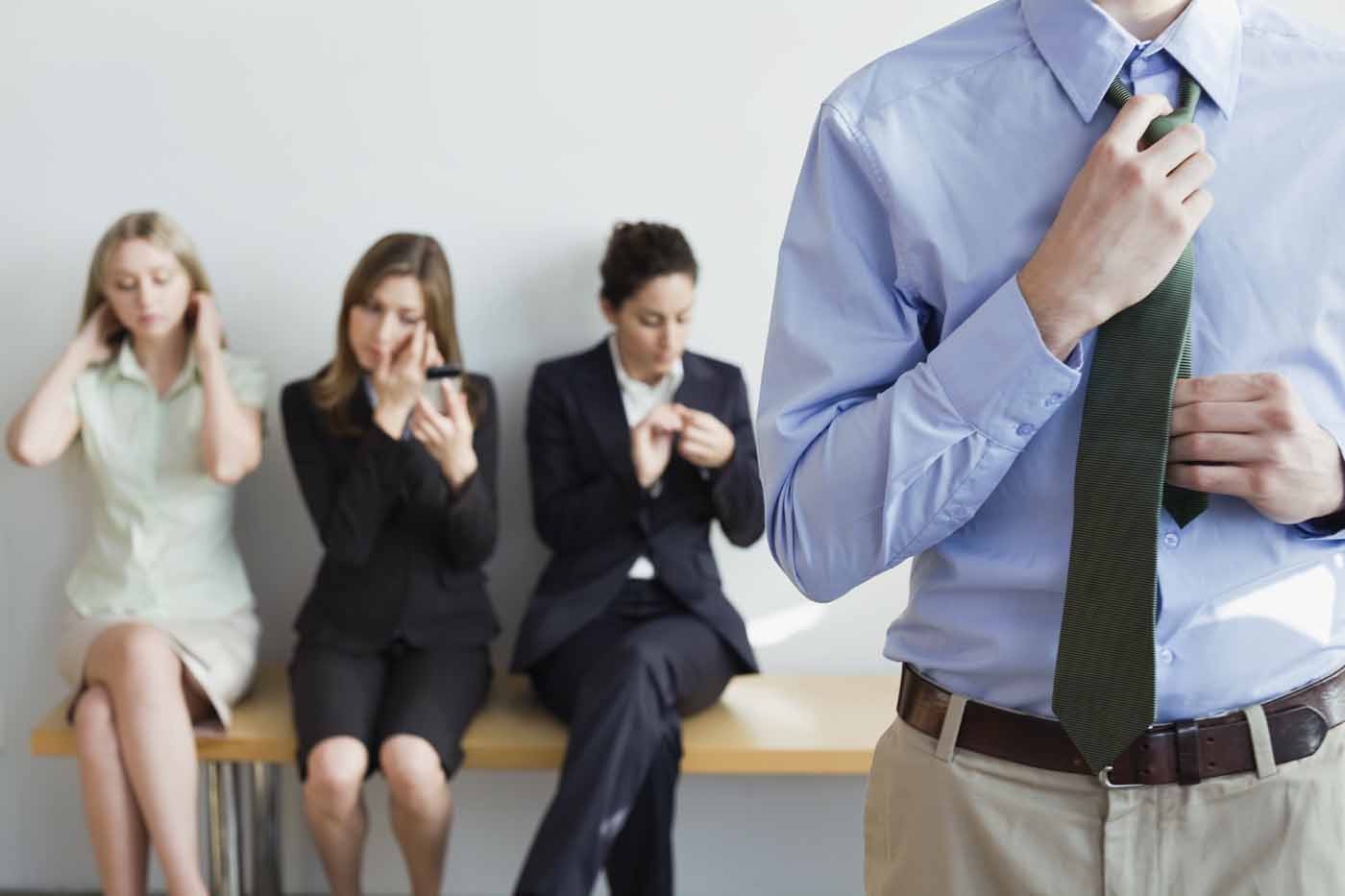 The first 5 minutes of your interview is the most crucial part of the entire interview. What you do, what you say, how you introduce yourself, how you dress… these all matter more than you think they do. In the first 5 minutes of the conversation, the interviewer can figure out a lot about you and your personality. This is why it is important to make a good first impression.
In order to do that, you should dress appropriately, arrive on time (if not before), have a firm handshake, and smile! Along with this, be sure to show enthusiasm, as this shows that you are excited about the job. Moreover, body language is everything. Like in the 5th tip, be sure that you look confident by standing tall and not slouching. Check out this blog on how to make a great first impression!
10. Relax
The last tip to crushing your interview is to relax. Just relax. You've already done all the preparation you could have, and all you have to do now is relax and try your best. An anxious candidate is prone to making mistakes, so make sure that you get rid of any nervousness or anxiety. It may help to exercise or meditate the morning of the interview.
More tips
DO:
Listen to the interviewer
Use appropriate language
Be positive
Keep your answers concise and focused
Treat everyone with respect
Thank them after the interview
DO NOT:
Do not be cocky
Do not speak negatively about other people
Do not freeze-up
Do not dominate
Do not be sloppy
Do not be opinion-free
Do not stretch the truth
The Takeaway:
Interviews are not supposed to be easy, especially if it's your first one. Think of them as first dates… good impressions count, you might feel awkward, and the outcome is unpredictable. But, if you follow these tips and are really passionate about the job, your chances will significantly increase. So, the 10 steps you should follow before and during the interview are:
Know your audience
Tell stories and use action words
Practice makes perfect
Understand the company
Project confidence
Be genuine
Listen for cues for connections
Ask questions
Make a good first impression
Relax
For more help, I highly recommend reading the book, "Case Interview Secrets: A Former McKinsey Interviewer Reveals How to Get Multiple Job Offers in Consulting."
Whether or not you have an interview coming up this month or not until a couple of years, I hope this blog helped you get a better understand of how you can go crush your next interview. These tips will definitely help, but remember, it is up to you and your passion/interest that will determine your future in one company or another.
Don't be afraid to fail. Don't waste energy trying to cover up failure. Learn from your failures and go on to the next challenge.

H. Stanley Judd
Last but not least, as said many times in this blog, you will most likely be asked questions about times when you failed. When answering these questions, not only acknowledge the downside, but also be sure to focus on what you learned and how you grew from it. This doesn't just apply to interviews, but also in life. With that, know that it is totally okay to not ace your interview, as there will be several more opportunities in the future. To end this blog, good luck and I wish you all the best for your next interview!
Next Steps
If you enjoyed this post, please make sure to comment your thoughts below and share it on social media!
Check out more content for:
Use this link to sign up for a brokerage account on WeBull and get TWO FREE STOCKS valued up to $1400 when you fund your account!
Learn how I was able to make $1,000/month as a teenager and quit my job by freelancing on Fiverr!
Join The Group Of Teens Dedicated To Achieving Financial Freedom
Disclaimer: Some of the links used on this site are affiliate links. At no additional cost to you, we receive a commission each time you purchase something through our link. It helps us cover the costs of running this blog. We only recommend the best products available.
Disclaimer: We are not experts or certified financial advisers. Our advice for you based on what has worked and continues to work for us. If financial problems occur we are not responsible for them and advise that you speak to a professional. That being said, we believe wholeheartedly that the advice we give to you will help your financial situation greatly.