Welcome to this post about how to achieve your goals in 2022!
Remember that time when you told yourself you were going to start waking up earlier and work out? You promised yourself that no matter what happens, you will stick to your goal. If you remember that, you'll also remember what happened that made you give up immediately.
If you can relate to that, don't worry, you're not alone. You're part of the 92% that fail to reach their targets, according to this research. However, your purpose in life is not to be like the rest of the people; it is for you to stand out and be an inspiration for others. By reading this blog, you can learn about how to achieve your goals to join the 8% of people who set goals, take action, and succeed!
Before we move on with how to achieve your goals, it is important to understand the reasons why you couldn't achieve your goals before. Some of the points include a lack of clarity, lack of commitment, lack of focus, and lack of confidence. In order to achieve your goals, you must have a lot of the four points above, and more.
Life doesn't always go the way we want it to go, but more often than not, it is our own minds that get in the way of achieving our goals. We make a list of excuses on why we can't, instead of making a list of reasons to go for it. We see the problem in every opportunity rather than the opportunity in every problem. Because of this, we become our own enemies. However, now is the time to put an end to that and improve ourselves and our life.
Nearly everything in life revolves around our goals, as they give our life a new sense of focus, direction, and clarity. They encompass all of our plans for the future, all of our hopes, dreams and visions for what we want in life. They are the reason we get up in the morning, and the reason we work throughout the day. But after all, we are human, and more so teenagers, so we are bound to make mistakes and get distracted. However, once we figure out a way to focus on our own selves and not the distractions, we can set our minds up to achieve anything we want in life. So, read on to find about how to achieve your goals in 2021 so that you can make this your most successful year yet!
1. Get clear on your WHY
You may have heard of the SMART goal-setting technique, and know that the right way to set goals is by making them specific, measurable, attainable, realistic, and time-bound. However, this is only the "how" aspect of goals. The one major flaw in this technique is that it only teaches you how to set goals the right way rather how to set the right goals in the first place. You can't use the "how" if you don't know the "why" first. Ask yourself, "Why is it so important for you to achieve this goal? Why do you want to achieve this?" You could have the perfect plan to achieve your goals, but if you don't have the motivation, then you'll set yourself for failure right from the start.
2. Create powerful habits around your goals
If you want to achieve your goal, you must create habits that help you advance towards your goal. By creating a habit, you are hardwiring a behavior in your brain and thus over time it becomes so natural to you that you do it almost automatically. Ultimately, your habit is no longer something you do, but it is part of who you are. As a result, achieving your goal will become effortless. The 3 keys to building habits that stick are:
Stick to the same time: Your brain is a lot more likely to create a habit out of something when you integrate it into your daily schedule. For example, if you want to work out 3 times a week, pick exact timeslots like Tuesday mornings before work, Thursdays after work and Saturday mornings. That way, your brain starts to associate these times with going to the gym and it will be easier for you to follow-through on your habit. To keep track of all your habits and priorities, I recommend setting up a weekly default schedule with recurring time-blocks. You can check out my own weekly schedule template to give you an idea of how that could look like.

Engineer a trigger: Your alarm clock, a notification on your phone or something happening in your day (e.g. you are leaving work, coming back from your lunch break) can act as a powerful reminder to kickstart your habit. These triggers will help your brain remember that it's time to do your habit and thus reinforce the creation of new neural pathways in your brain. But what's even more powerful than artificial triggers are existing habits: In fact, one of the easiest ways to build a new habit is to stack it on top of an existing one. For example: Meditate after you brush your teeth in the morning and work out after your meditation. When you stack multiple habits, they become a powerful routine that acts as a goal-achievement machine.

Stick to it for at least 2 months: Research shows that it takes exactly 66 days to form a new habit loop in your brain. Thus, it's crucial to not take significant breaks in the first 2 months. After that, it should feel almost natural to do your habit.

https://medium.com/@refinedliz/7-full-proof-ways-to-achieve-your-goals-in-2020-e38db4668ae5
3. Keep your mind focused
It is essential to keep your goals in your mind at all times. Writing them down is not enough, as you need to remind yourself everyday of what they are and why they are important to you. By doing this, you can stay mentally focused, and a result, you will find it easier to make decisions that support your goals. Along with this, you must focus on the practice rather than the result. The practice will automatically give you good results. Focus on doing what you're doing, not achieving it by a certain date. This will ensure that you know what you are doing and you're not rushing.
4. Plan your time and energy according to your goals
Yes, we all have a life, a busy life that can make it a challenge for us to find time to focus on our goals. However, the 8% of people who achieve their goals don't let less important things distract them from what really matters. They control their lives rather than letting life control them. And, one way they do that is by planning their time and energy to where their goals are at. Some tips to help with that include keeping a to-do list, making a calendar, planning your day the night before, starting your day with the most important task, and blocking your high-energy times for your goals.
5. Define your fears
Think about what you're putting off for the "right moment." What holds you back? What are you afraid of? Write down the worst things that might happen if you fail, suggests investor and author Tim Ferriss. Then think about what you'll do if they happen and how you could prevent them.

Tim calls this "fear-setting," a practice that can help you break the cycle of self-paralysis. "I can trace all of my biggest wins and biggest disasters averted to fear-setting," he says.

https://ideas.ted.com/4-tips-to-help-you-achieve-your-goals/
6. Eliminate distractions
As teenagers, we tend to get distracted A LOT. I know I sure do. However, if we want to achieve our goals, we must eliminate the distractions that take our mind away from the goal. For example, if your goal is to spend less time on your phone, you should silence notifications, delete addictive apps, and even keep your phone in another room so that you are not tempted to check it every few minutes or so. Especially for teenagers, the smallest distractions can take our attention away from our biggest goals. It is important to understand what you get distracted by so that you can take them away and focus on the more important things in life.
7. Break it up
As teenagers, we tend to bite off more than we can chew a lot of times. When this happens, we get overwhelmed with the amount of work we have to do to fully accomplish something. And, this leads to less motivation and the wanting to give up. However, to turn things the other way, it helps to break things up to make it easier and more achievable for us. For example, if your goal is to save $1,000, it may seem like a huge amount at first. However, if you break it up, that could be $100 per month. $100 per month seems doable, while saving $1000 just like that seems a lot harder than it actually is.
8. Hold yourself accountable
In order to achieve your goals, you must hold yourself accountable. This is the part where you must mature and define your responsibilities, as well as making it clear to yourself. Holding yourself accountable means that you have a way to make sure that you are holding the promises you made to yourself. Some things that significantly help with this include telling a friend and tracking your performance, which brings us to our next point.
9. Track your performance
A huge incentive to making it all the way to the finish line is tracking your progress to see how far you made it. If you are halfway there but want to give up, remind yourself of how well you've done up until this point. According to apa.org, monitoring your progress increases your chances of success at achieving your goal. By knowing the progress you made, you can also know the level of success you are able to achieve. It also gives you a realistic picture of where you are, so that you can identify your mistakes to advance!
10. Commit to it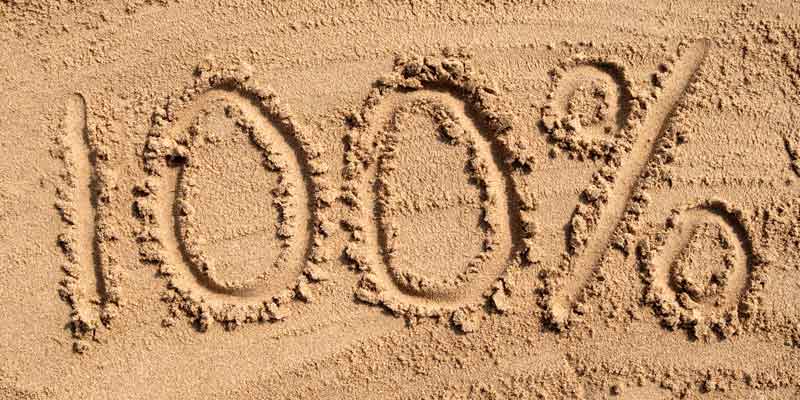 In order to achieve your goals, you MUST commit to it. At some points, it may seem like the goal is easy to reach, however, at other times, it will feel like the exact opposite. When you stay committed, the results will show your improvement and how successful you have become. Again, you could have the perfect plan for achieving your goal, but if don't have the commitment, it will all go to waste. Staying committed through tough times will make sure that you keep going and getting closer to success no matter what! But remember, it all starts with you!
The Takeaway:
Don't wait for the 'right time' to start taking action and heading towards your goal. Now is the time to start, not tomorrow and not after a month. If you really want to achieve your goals, you must start NOW! However, achieving your goals takes a lot of dedication and willpower, so hopefully, these ten tips will help:
Get clear on your WHY
Create powerful habits around your goals
Keep your mind focused
Plan your time and energy according to your goals
Define your fears
Eliminate distractions
Break it up
Hold yourself accountable
Track your performance
Commit to it
By doing these 10 tricks, you can significantly increase your chances of being part of the 8% of people who achieve their goals! And once you do achieve your goals, don't forget to celebrate!
If you're really serious about committing and wanting to achieve your goals, I highly recommend checking out "The 100-Day Goal Journal: Accomplish What Matters to You." Along with this, be sure to watch this TED video on why the secret to success is setting the right goals. And, last but not least, to understand and get clearer on your goal, read our blog on the difference between your goals and purpose!
If you put your mind to it, you can accomplish anything.
So, good luck achieving your goals and I wish you all the best! Comment down below if these tips helped you!
Next Steps
If you enjoyed this post, please make sure to comment your thoughts below and share it on social media!
Check out more content for:
Use this link to sign up for a brokerage account on WeBull and get TWO FREE STOCKS valued up to $1400 when you fund your account!
Learn how I was able to make $1,000/month as a teenager and quit my job by freelancing on Fiverr!
Join The Group Of Teens Dedicated To Achieving Financial Freedom
Disclaimer: Some of the links used on this site are affiliate links. At no additional cost to you, we receive a commission each time you purchase something through our link. It helps us cover the costs of running this blog. We only recommend the best products available.
Disclaimer: We are not experts or certified financial advisers. Our advice for you based on what has worked and continues to work for us. If financial problems occur we are not responsible for them and advise that you speak to a professional. That being said, we believe wholeheartedly that the advice we give to you will help your financial situation greatly.