Welcome to this blog on high school vs. middle school! In this blog, I'll be going over some key differences between high school and middle school, so if you are an upcoming freshman in high school, this blog will surely help you a lot!
I'm currently a freshman in high school and at the time I'm writing this, the first semester just ended. School began in-person after two years of virtual learning, so it was definitely a change in environment. After being in school for about 19 weeks now, I have definitely noticed a lot of differences between high school and middle school. Some differences are good and beneficial for your high school experience, but others are not that positive.
During the summer before 9th grade, I recall being nervous and a bit stressed out because I had no idea what high school would be like. I was clueless about the school environment, how many hours of homework I would have per night, and much more. I thought it was going to be a huge step up from middle school.
However, after the first two weeks of high school, I realized that it wasn't bad at all and that I was stressing out for no reason. Yes, it is harder than middle school, but it is 100% manageable.
So, for those of you who are entering high school, I hope that the differences below will help you understand how you need to prepare for a new journey of your life!
1. More variety of classes
One of the main differences between high school and middle school is the option to choose your classes. Now, these classes differ for each school, but the variety definitely increases from middle school to high school.
In middle school, the only option that I had for my classes was to choose what language I want to learn. (I chose Spanish).
But now, as a freshman in high school, I got to also choose with science course to take as an elective. And, in my following years of high school, I'll have many different options, ranging from business, medicine, journalism, and so much more. Not only this, but if I want to pursue science-related courses, I'll get to choose from anatomy, psychology, human body systems, and many more along these lines.
These options give you the opportunity to explore different fields and find your passion! Before choosing courses, I definitely recommend reading the syllabus for each course and seeing what you are interested in!
2. Peer pressure
Peer pressure influences your life from a very early age. It's only natural for us to observe and learn from our peers; human nature drives us to find a sense of belonging amongst others and thus gain acceptance. Peer pressure can be both positive and negative, however, we typically only acknowledge negative peer pressure as being an aspect of high school due to its notorious and dangerous consequences.

Those who engage in healthy relationships can experience positive effects of pressure: maintaining a kind and compassionate character, avidly participating in class, and attending school on a regular basis. However, upon entering high school you will find that there are some who chose to engage in risky behavior: trying drugs, alcohol, cigarettes, vaping, etc. You'll encounter various situations where you'll have to determine whether you have the power and will to say "no" when necessary. It takes great power and courage to resist the desire to fit in with those around you but by doing so you will be thankful for having avoided the consequences of engaging in reckless behavior.

https://www.theteenmagazine.com/10-reasons-why-high-school-is-different-than-middle-school
3. Friendships
Friendships are bound to change as time goes on. But, it doesn't have to be in a bad way.
As you mature and grow older, your personality and things you like are going to change, while others are also going to change. The similarities you shared with your friends in the past are not going to remain constant.
As you enter high school, you'll realize that the people you surround yourself with are not always the same people who were with you in middle school. And, that's totally okay. It's important to surround yourself with people who make you happy and inspire you to be the best version of yourself!
4. Independence
It's typically common in middle school for parents to get involved with events and help out with some of your work. However, that changes in high school.
In high school, you are responsible for you. You have to know when assignments and other projects are due. While this may sound intimidating, you do get more freedom for your own choices and decisions. Don't take it for granted!
5. Harder coursework
Another main difference between high school and middle school is the difficulty, as well as amount of coursework you have.
To be honest, the amount of homework is only a little bit more than what you would get in middle school. For example, if you had 30 minutes of homework in middle school, in 9th grade, you'll probably have 45 minutes of work. However, this depends on the courses you are taking.
The difficulty of the course is definitely much harder. With advanced lessons, you are expected to understand more.
In the next three years of high school, it's no surprise that the amount and difficulty is going to increase even more.
But, as you mature and grow, you'll be able to handle it!
6. No slacking off
In middle school, teachers are super lenient about due dates. You could turn an assignment in a week late and still get full credit. Well, all that is going to change once you enter high school.
In high school, teachers are not going to accept late work or half-completed work. Not even for half-credit.
So, this means you have got to have full control over your assignments and know exactly when something is due.
It is also important not to procrastinate because you're going to have more work and less time to do it.
I highly recommend keeping a planner and writing down your homework for the day so you know what you have to do and when you need to finish something by!
7. Extracurriculars
Another positive thing about high school are all the wonderful opportunities you'll get to have to further explore your interests and have fun at the same time. In high school, there are more sports teams you can try out for, as well as clubs you can join or even start.
Even outside of school, you can get a job or an internship, volunteer, and join competitions!
Don't be afraid to try something new!
8. Less sleep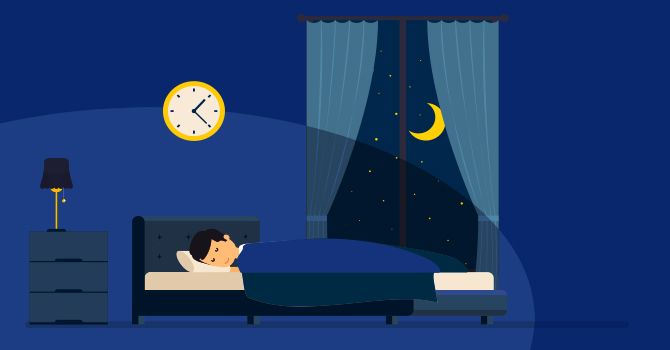 Upon analyzing state Youth Risk Behavior Surveys, the CDC determined that 7 out of 10 high school students did not get enough sleep on school nights. With longer, busier days and heavier amounts of homework, high school students lose more hours of sleep than they would have in middle school. Additionally, the American Academy of Sleep Medicine, teens need between eight and ten hours of sleep, yet research shows that up to 73% of high school students don't get a healthy amount of sleep. Such lack of sleep can have a detrimental effect on a teen's health and life; according to Dr. Jonathan Pletcher, an adolescent medicine specialist at the Children's Hospital of Pittsburgh, "…a lack of sleep can increase depression, negative physical health like headaches, poor school performance, school absenteeism and drowsy driving."

So, what are the ways to ensure a good night's sleep? Try establishing a set bedtime, even on the weekends, to give your body a consistent sleep schedule, completing homework on time to avoid late nights of studying, and avoiding technology at least an hour before bed.

https://www.theteenmagazine.com/10-reasons-why-high-school-is-different-than-middle-school
9. Grades matter
If you're in middle school right now, you may not care so much about your grades. But, once you get into high school, you'll realize that grades do matter.
Now, it's not like they determine your future and your likelihood of success. But, it's important to try to get good grades, as colleges do look at grades when it's time for you to apply to colleges.
To get good grades, you don't have to be an expert on the subject. Personally, the recipe for getting good grades is:
Completing work on time
Paying attention in class
Studying for quizzes/tests when I need to
This recipe may not work for you, as you may have to do more or less of something. But, find what works for you and work hard!
Also, if you're in middle school right now, you should still try to get good grades and work hard in class. The knowledge you learn in middle school often serves as a base for the classes in high school.
10. More subject-centered
In middle school, it's pretty obvious that teachers cater to students often. Teachers usually meet up to plan and coordinate activities together. This approach incorporates non-academic areas of focus into school. For example, going on field trips, doing a project, or participating in a play.
In high school, teachers are focused on solely teaching the subject and the lesson. The focus is much more academic. This means more notes and more practice problems.
Both focuses have its pros and cons, so make the best out of each experience!
The Takeaway:
High school is not just all homework and tests and projects. It's also having fun with friends, experiencing new things, and making many memories. If you're about to enter high school, don't be stressed – get excited! You're about to walk onto a wonderful journey of self-growth, hard work, and fun. High school is not going to be all fun 100% of the time, but it's not going to be all stress 100% of the time either. It's up to you to find that balance between fun and hard work, so you can make the most out of it. Keep in mind that these are some differences between high school and middle school, just so you can be prepared in advance for what's to come:
More variety of classes
Peer pressure
Friendships
Independence
Harder coursework
No slacking off
Extracurriculars
Less sleep
Grades matter
More subject-centered
With this, it's important that when you enter high school, you must learn how to manage your time wisely. Check out Jacob's blog on time management for teens here!
I also recently wrote a blog on "A Day In My Life As a High School Student (Freshman Edition)" so be sure to read it if you're wondering what a typical schedule looks like for me in high school!
If you're looking for a little entertainment, check out this funny video I found: Back To School Middle School Vs. High School!
Last but not least, check out this academic planner to use for high school to help you organize your tasks and plan out your day.
If you have any questions about entering high school or if you've noticed other differences between high school and middle school, be sure to comment down below! This blog wasn't meant to stress you out or anything, but instead to help you prepare for high school!
One last point I want to mention is that 9th grade is actually kind of similar to middle school and it isn't that big of a step up. The next three years of high school are where the grind happens. But, if you believe in yourself and work hard, you can get through anything.
With that being said, thank you for reading, and have a great day!
Next Steps
If you enjoyed this post, please make sure to comment your thoughts below and share it on social media!
Check out more content for:
Use this link to sign up for a brokerage account on WeBull and get TWO FREE STOCKS valued up to $1400 when you fund your account!
Learn how I was able to make $1,000/month as a teenager and quit my job by freelancing on Fiverr!
Join The Group Of Teens Dedicated To Achieving Financial Freedom
Disclaimer: Some of the links used on this site are affiliate links. At no additional cost to you, we receive a commission each time you purchase something through our link. It helps us cover the costs of running this blog. We only recommend the best products available.
Disclaimer: We are not experts or certified financial advisers. Our advice for you based on what has worked and continues to work for us. If financial problems occur we are not responsible for them and advise that you speak to a professional. That being said, we believe wholeheartedly that the advice we give to you will help your financial situation greatly.