Welcome to Cryptocurrency for Beginners!
In today's post we're going to be discussing cryptocurrencies, what they are, what the future holds for them, and of course, how to get some free crypto!
Cryptocurrencies are a fairly new asset class and while the majority of people have heard of them (or at least have heard of the big one, Bitcoin), not very many know exactly what they are.
In part due to how unique and new they are, crypto can seem overwhelming and difficult to understand. For example, how can something completely digital and not tied to anything physical be worth even a single cent?
How can a "digital coin" like Neo rally over 250,000%???
I understand most people's skepticism with this new space but in today's post I'm going to do my best to offer the knowledge I have on crypto and how to get involved for free!
One of the best ways you can learn is by jumping in with a few bucks and learning how to buy, sell, and transfer coins between wallets.
Nothing beats experience!
And for those who aren't quite ready to put their own money in any coins yet, using the Coinbase Earn program is a great way to get started.
So without further ado, let's begin!
What are Cryptocurrencies?
I'm probably not the best person to ask this question as there are others who have definitely studied this far more than I have, but at the risk of oversimplification here's a short definition:
Cryptocurrencies are completely digital currencies. They're unique compared to other currencies in that
They have no physical bills or coins.
Their value is not tied to anything (doesn't apply to all coins, for example, stablecoins are an exception).
They are decentralized. There is no single party controlling it.
The last point might not be the case in all cryptocurrencies, but a good example of decentralization is Bitcoin.
No single entity (organization, company, or government) controls Bitcoin. Instead, it's ledger or blockchain is stored on thousands of computers of Bitcoin users all over the world.
This prevents any one single group or person from controlling the fate of Bitcoin, and prevents cyber attacks on a single facility or computer.
This is one of the big reasons Bitcoin became so popular. In the past, almost all currencies have always been controlled (usually by a government). In 2008 when Bitcoin was first created, it was a HUGE turning point in the financial world.
A true decentralized currency had been released.
Since then, many many more currencies have been created. According to coinmarketcap.com, there are over 5,000 different cryptos.
While Bitcoin was the catalyst that started it all, it isn't a perfect currency. Compared to other newer coins released (generally called Altcoins), it can be considered expensive, slow, and inefficient.
For now though, Bitcoin is here to stay.
Fun fact:

A super easy way to see what the entire cryptocurrency market is doing is to just look at Bitcoin. While this might not be the case forever, as of right now and the foreseeable future whatever Bitcoin does, the Altcoins do.

(That's not a law, just a rule of thumb)
If you're interested in a more in-depth look at what cryptocurrencies are, here is a great article.
How to Get Started with Free Crypto
A lot of people are pretty skeptical about putting their money into any cryptocurrencies, which I completely understand!
It's a very new asset, can seem extremely complex and difficult to understand, and is quite volatile.
Though if you've done your research and you have a personal interest in cryptocurrencies and want to invest some of your own money, we'll discuss some of the best coins around that would be great choices, what their futures are, and what the crypto market has in store.
For those of you who don't have a lot of money to invest or aren't quite ready to jump in with your own investment, I've got great news! You can get free crypto!
Yep! Free crypto, no strings attached.
Coinbase, one of the largest cryptocurrency exchanges with over 30 million users and $150 billion dollars traded on it's platform has a free educational program about cryptocurrency called "Coinbase Earn."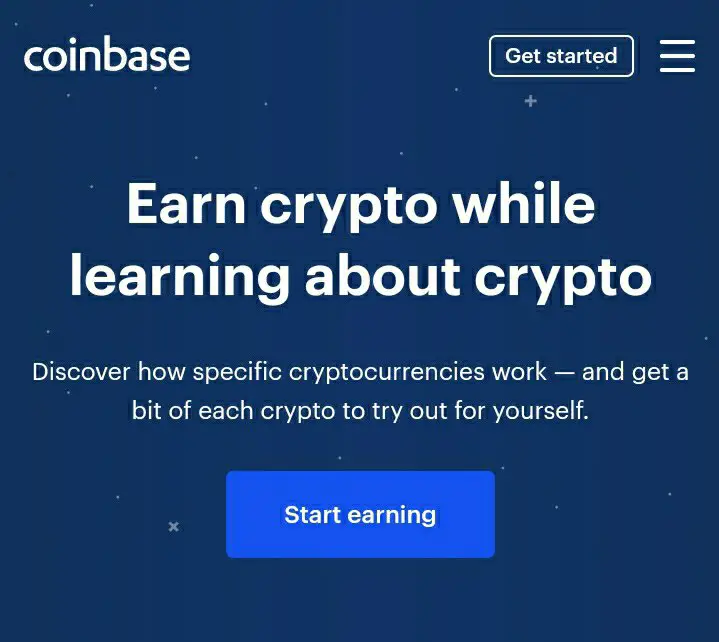 Coinbase offers a program called Coinbase Earn which allows you to go through a course about a specific cryptocurrency, watch short videos, and answer a simple quiz to verify you were paying attention.
Boom! As simple as that, and you'll have crypto deposited into your account.
Currently, they offer mini courses on the following coins:
Orchid: Up to $52
Tezos: Up to $6
Dai: (Course available, but no more rewards)
EOS: Up to $50
Stellar Lumens: Up to $50
Zcash: (Course available, but no more rewards)
Basic Attention Token (BAT): Up to $8
0x: (Course available, but no more rewards)
TOTAL: Up to $166 worth of free crypto
---
For Dai, Zcash, and 0x, all the coins have been already distributed so unfortunately you can't earn rewards for those three coins anymore.
To start earning, all you have to do is set up a Coinbase account, login, and head over to Coinbase Earn.
How to Set Up your Own Coinbase Wallet
There are three levels of verification when setting your account up that will unlock certain features.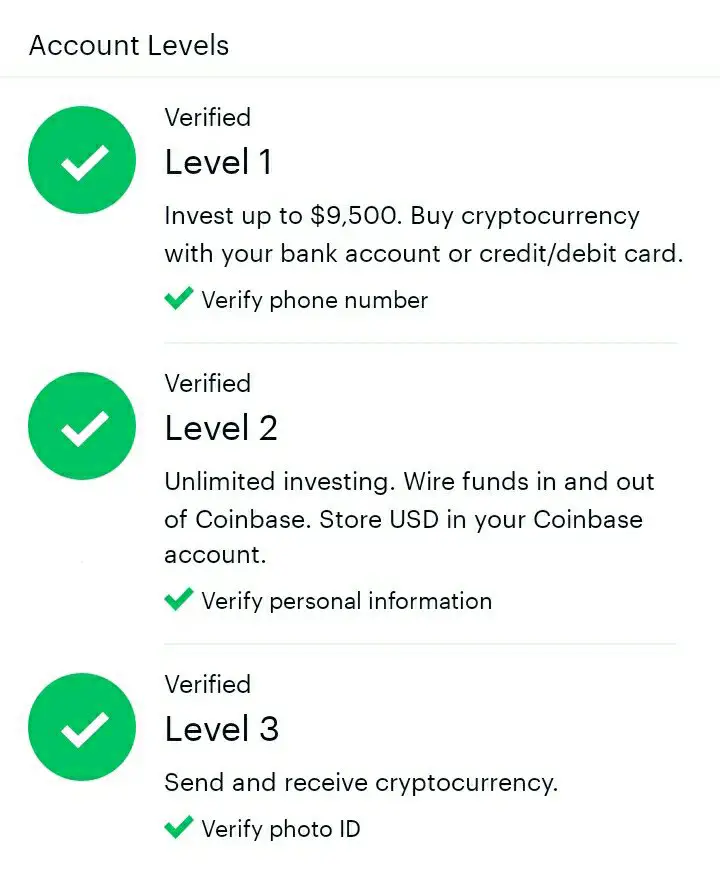 Note: If you are under the age of 18, you will need your parents help with setting up a Coinbase account.
In the past Coinbase did not require all their users to verify their identity, but it is now a requirement.
Users under the age of 18 aren't allowed to set up their own account so if you're under that age but interested in Coinbase Earn, you'll have to have a parent set up the account for you. A bit of a bummer, sorry!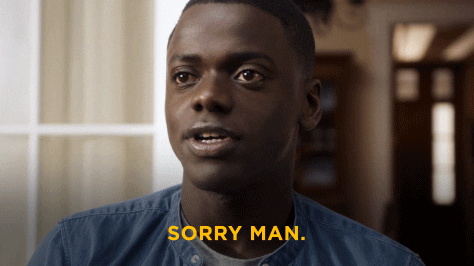 What you'll need to setup a Coinbase account
---
Name
Email address
Phone number
Passport, Driver's License, or Photo ID
---
If your parent is concerned about submitting their information I can vouch for Coinbase in that it is a very professional company. They are based in the United States and do not spam at all. They only send you emails for verification purposes, receipts, or announcing a new coin released on their platform. Coinbase will only use your phone number to send you verification codes.
The reason Coinbase requires photo identification is because of a US regulation to "Know Your Customer" and verify their customer's identity. You can read more about it here.
The account set up process is fairly straightforward. You can log in to your email account and have your phone near you before you start the account set up, since you'll need access to both for verification purposes.
If you don't already use a password manager (which I HIGHLY recommend), don't forget your password! Write it down somewhere.
If you need help with the step-by-step process of setting up your Coinbase account, check out this very useful article.
How to Get your Free Crypto
Once you have your account all set up and verified, you're ready to earn your free crypto! If you are on a computer, head to coinbase.com/earn, login, and start earnin'!
If you are on your phone with the mobile app (and technically you could head to the same link above in your browser and it will work too), navigate to one of the coins that is in the Earn program and you'll see this: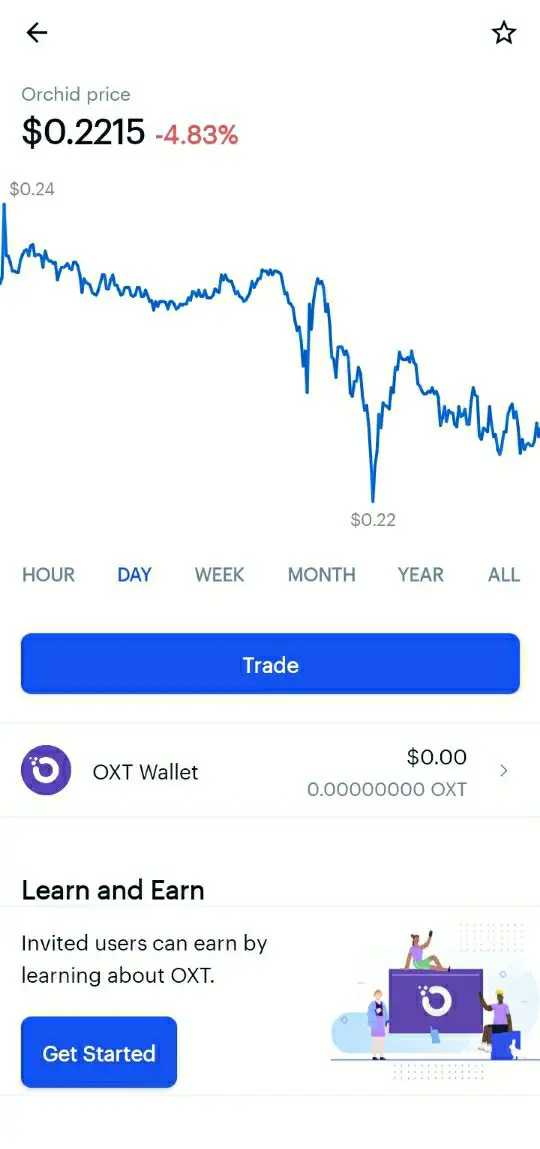 Click on the "Get Started" button (you might have to scroll down a little) and you'll see this:

Now click on Lesson 1 and watch the video.
And voila! You've earned your first free crypto! The process is very simple and you could probably go through all the individual programs in an afternoon, as each program only has 3-4 short videos.
The Future of Crypto
Crypto has a fascinating future. The underlying technology behind it, blockchain, also has a crazy future.
So many sectors including law, financial, health, real estate, and others will be impacted by crypto and blockchain technology.
Here are some of my favorite crypto projects and what they're innovating (in no particular order):
Ethereum is very interesting since it has multiple functions, the big three being smart contracts, tokens, and dApps (short for decentralized application). Many popular coins (known as ERC20 tokens) and applications have been built on Ethereum, like Orchid.
Ethereum also has its own proprietary coding language called Solidity.
Here's the basics on Ethereum's core features:
---
Smart Contracts
A smart contract is a computer protocol intended to digitally facilitate, verify, or enforce the negotiation or performance of a contract. Smart contracts allow the performance of credible transactions without third parties.

Source: Smart Contracts: The Blockchain Technology That Will Replace Lawyers
---
dApps
A decentralized application is similar to a smart contract on the Ethereum blockchain, yet it also has key differences. Unlike smart contracts, Dapps do not need to revolve around finance but can leverage blockchain technology for any purpose that comes to mind.

Source: What is a dApp?
---
ERC20 Tokens
These are crypto-assets or crypto-tokens which can be traded like Bitcoin or Ethereum or Litecoin but unlike these cryptocurrencies, they don't have their dedicated blockchain. Instead, they thrive on Ethereum's blockchain and bring several benefits for the users….

(Continued in article linked below)

Source: What is an ERC20 Token?
---
I was recently introduced to Neo by my Crypto mentor, Mr. Lydon (he actually has a deep dive video on Neo in his Patreon which I'll link to below).
Neo is an interesting project for several reasons (it's also known as the "Chinese Ethereum" as it's very similar to ETH).
First, unlike Ethereum which requires you to learn it's own proprietary programming language (Solidity), Neo allows you to program with multiple common languages including JavaScript/Typescript, Java/Kotlin, Python, and Go.
Neo also has smart contracts (like Ethereum).
The last point I'll cover on Neo is it's quantum-proofing. This is still a fairly new concept to me, but the best I know of it is that quantum computers have the ability to crack the cryptograhic protocols of cryptocurrencies. With the coming rise of quantum computers, Neo has already protected itself from this threat. Essentially, it's future proofed itself.
---
Litecoin is pretty simple! It's basically just an upgraded, modern version of Bitcoin. It has lower fees, process transactions quicker, and my favorite part is how much cheaper it is than Bitcoin.
My crypto mentor likes Litecoin for the fact for the fact that while Bitcoin still has an incredible future and incredible potential returns, it is much harder for Bitcoin to double from say $10,000/coin to $20,000/coin than it is for Litecoin to quadruple from $60/coin to $240/coin.
Litecoin has solid fundamentals as a project, is a very popular coin (often quoted among the top three cryptos), and has potential for a much higher return than Bitcoin.
---
Ripple (XRP)
Ripple is transforming the banking industry and establishing itself as a leader in the digital payment industry.
From the Ripple website:
XRP offers financial institutions the fastest, lowest cost option for sourcing liquidity in cross-border payments.

Faster, less costly and more scalable than any other digital asset, XRP and the XRP Ledger are used to power innovative technology across the payments space.
Another strong selling point of Ripple is the price of it's coin! By far the cheapest coin in this list at $0.15 (as of 3/15/2020) it once had a high of a little over $3.
So as of right now, it's definitely on sale!
Digital Assets Coaching
Before I wrap this post up, I just want to give a quick shout out to my crypto mentor, Mr. Lydon. Absolutely without a doubt, if I did not have his guidance I would not have felt confident enough to jump into the crypto world myself.
The point of this post wasn't to push any courses or "buy this!" or "buy that!"
If you're a little bit more serious about learning more and are looking for specific guidance or people who have been in this space for quite a while, joining his Patreon is a great way to start.
I've been in it for about one to two years and love it. He consistently posts three videos a week on what he's doing and researching, what his targets for crypto are, and which coins and projects he's been looking into.
Don't get me wrong, this is not a course for getting rich quick. You won't. We're not day traders looking to spend hours in front of charts for a 15% gain in a day. Rather, our personal investing philosophy is more of a swing trader looking to buy and sell based on long term movements.
Anyways, this would be the first spot I would go to get more insight about crypto. There's a lot you can learn online for free, but it sure does help having it all compiled into a couple videos a week when you're super busy.
The Takeaway
I hope you've been able to take away some useful information about crypto and how might be able to join in if you haven't already! Feel free to leave a comment down below with any questions or concerns and I will do my best to answer to the best of my abilities or find someone who can. Also, be sure to check out the book, "Cryptocurrency for Beginners: The Ultimate Guide to Cryptocurrency Revolution for Beginners."
Thanks so much for checking out this article! Best of luck!
Check out more on this topic in our investing category.
Next Steps
If you enjoyed this post, please make sure to comment your thoughts below and share it on social media!
Check out more content for:
Use this link to sign up for a brokerage account on WeBull and get TWO FREE STOCKS valued up to $1400 when you fund your account!
Learn how I was able to make $1,000/month as a teenager and quit my job by freelancing on Fiverr!
Join The Group Of Teens Dedicated To Achieving Financial Freedom
Disclaimer: Some of the links used on this site are affiliate links. At no additional cost to you, we receive a commission each time you purchase something through our link. It helps us cover the costs of running this blog. We only recommend the best products available.
Disclaimer: We are not experts or certified financial advisers. Our advice for you based on what has worked and continues to work for us. If financial problems occur we are not responsible for them and advise that you speak to a professional. That being said, we believe wholeheartedly that the advice we give to you will help your financial situation greatly.