Welcome to our second Blogging Case Study!
I wrote the last case study on May 12, 2020. I'm writing this 9 months later on January 7, 2021.
Our blog has grown a ton over the last 9 months and we've all changed so much so I figured it was time for another case study.
Also, I figured now would be as good of time as any to make our big announcement we've been hyping up for several weeks. Read until the end to hear the big news!
Once again I will be documenting our journey, sharing some stats, and sharing our plans for the future. So if you're interested in this type of thing, keep reading! Without further ado, let's get into it!
When Did We Start Blogging?
For those who are unfamiliar with our story, I started the Teen Financial Freedom blog on July 28, 2019. That means that we have been blogging for a year and a half.
Honestly I never expected to make it this long. There have been numerous times when I've come super close to quitting.
But, somehow I've made it this long. It wouldn't have been possible without the help of the entire TFF team.
We've had a total of 5 people on our team at one point or another. Currently, there are 3 active team members.
It's been super helpful to be able to delegate tasks and each focus on a different area as we try to grow our platform.
Changes to Our Strategy
Since the last case study, we've changed our strategy quite a bit. Here are a few of the changes:
As mentioned back in May, we did start posting 2 times per week in June, once on Sunday and once on Thursday. We have stuck to that schedule for the last 8 months.
Also mentioned in May, we've been targeting keywords with 1,000-2,000 monthly searches. At this time we're going to stick with this strategy as the majority of our newer posts haven't gained traction yet.
We have become less focused on keywords, and more focused on making interesting content.
Instead our being strict about each post having 2,000+ words, we're now focusing on making our posts concise and jam-packed with useful information.
We have also done a great deal of optimization to our website performance. We've done redesigns, added plugins, and sped up our website big time!
We started updating our old blog posts consistently. We fixed typos, updated time sensitive information, and added new content to them.
We added "in 2020" to a lot of our blog post titles. We've now updated them to say "in 2021" instead with the new year coming around.
Those were the 7 biggest changes that we've made to our blogging strategy over the last 9 months. I think each one has been crucial to our growth and will continue to fuel future growth.
My Tips For Fellow Bloggers
I believe that a lot of my fellow bloggers will be reading this post, so I wanted to include some advice to them.
Whenever another blogger asks me for advice the first thing I tell them is to stay consistent. I think it is the single most important thing you can do to have success blogging, but also in life.
We've been blogging for a year and a half and have posted one to two times per week without missing a single week. We've now published over 100 posts that total over 200,000 words.
I think that our consistency has been the biggest contributor to our success.
Another important step is to collaborate with others. Working with others will help grow your blog a lot faster than just working by yourself. Guest posts will generate backlinks which increase your website authority which ranks you higher. Not to mention, partnerships give you access to new opportunities that you never would have thought of.
Finally, my last piece of advice is to never stop learning about blogging. You need to research and figure out what works and what doesn't when it comes to blogging.
Read more posts like this one to learn about strategies and hear advice from bloggers that are bigger than you. Education is the best way to never stop improving and growing your blog.
Blogging Stats
Here comes the fun part of the post…our stats. Our blog has grown so much over the last 9 months to the point where it seems like this isn't even the same blog I wrote about in the last case study.
Here were our stats back in May. Up to that point, we had received 2,300 clicks all-time from Google as shown by the picture below: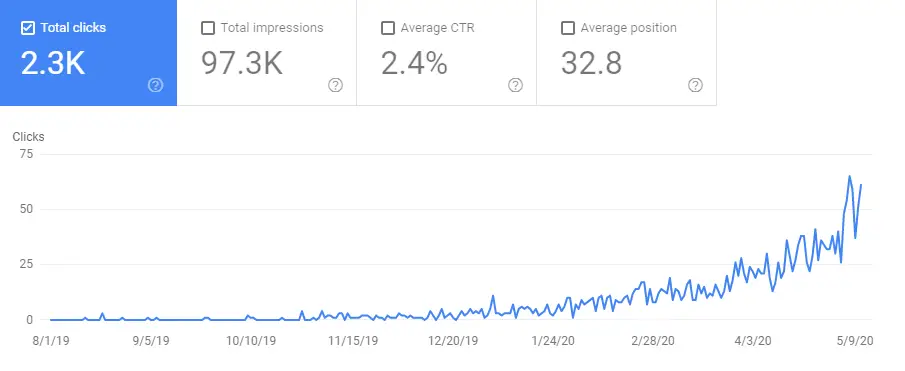 That translated into 4,300 total pageviews from July 2019 to May 2020:

In May, we crossed the 1,000 pageviews/month mark. Which looking back, is not that impressive. However, at the time I was super excited about the potential exponential growth coming in the future.
I predicted that we would be at 100,000 monthly page views in December, which was 100x higher than what we were currently at.
Unfortunately…we did not hit that goal. But, we did see some pretty crazy exponential growth: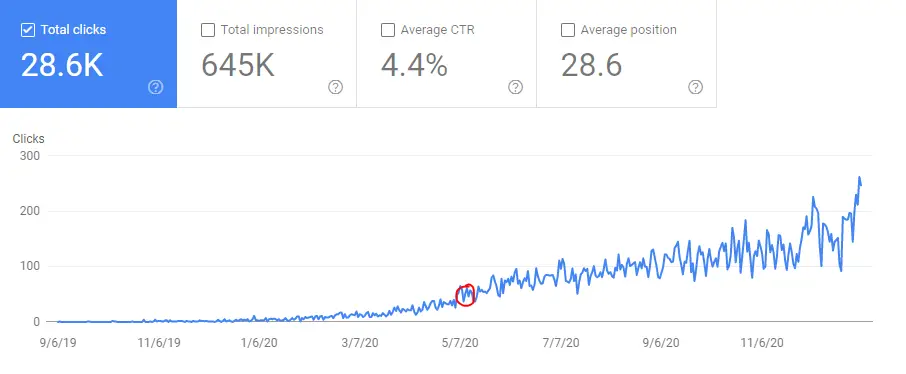 I can't see the timeline since the very beginning, but from September 2019 through December 2020 looks like this:
28,000 Clicks From Google
645,000 Impressions From Google
4.4% Click Through Rate
28.6 Average Ranking Position
If you look closely at the picture above, you'll see the red circle which marks where we were in May when I wrote the last blogging case study.
Here's how those clicks translated into pageviews: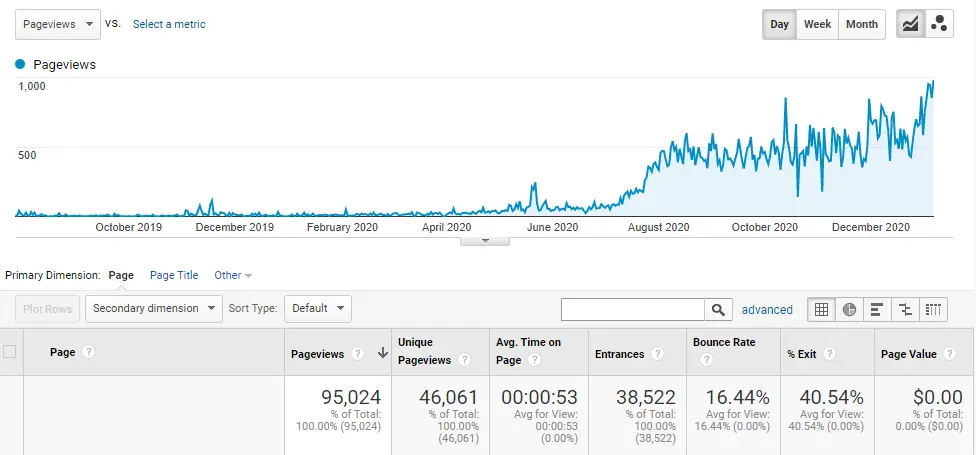 As you can see, we've had 95,000 total pageviews since we started blogging 18 months ago. It's crazy to think that we are closing in on 100,000 total page views.
If you're interested in seeing what our month stats look like, here were our December 2020 stats: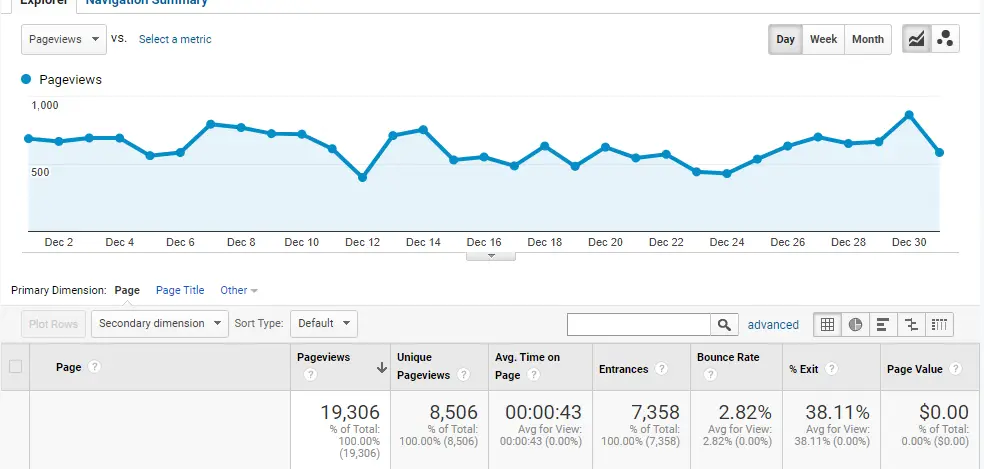 We had 19,000 monthly pageviews in December which is 19x higher than we were at back in May. While it isn't the 100,000 monthly pageviews I predicted, it is still a huge improvement in 9 months.
Our Traffic Sources
Our traffic sources look like this:
Organic Search: 75%
Direct: 12%
Social: 10%
Referral: 2%
Other: 1%
How Much Money Have We Made?
The question you have all been waiting for…how much money have you guys made?
The answer…$5.47
Yeah, that's right. We have made $5.47 in the last 18 months blogging. Which we are stoked about!
Just kidding! That by far is our least impressive stat.
But, before you cast too much judgement, you should probably know that we've hardly tried to monetize our blog at all.
Since the beginning, we've had ads on our website for only a handful of days. They slowed down our website too much, so we got rid of them.
We've also done a course and some affiliate links, but we haven't promoted either very much.
Our focus has been on growing our traffic. We're only just starting to focus on monetization. That's one of our main goals for 2021.
Honestly, it is disappointing to have not seen a monetary reward YET. However, if this blog ended tomorrow, I would still have zero regrets about spending hundreds of hours and hundreds of dollars on this blog.
Why Do You Guys Blog?
I said this in the last case study, but I'm going to say it again. Here are 3 reasons why we blog besides trying to make money.
Education – A lot of what we write about forces me to research and learn more about these topics. As they say, "the best way to learn is to teach". I've learned so much about finance, business, productivity, and success from writing blog posts. I've developed skills that have paid off already and will pay off for the rest of my life.
Productivity – I also feel a lot better about myself when I'm productive with my time. In my mind, writing posts and developing this blog is a lot better use of my time than playing video games or watching Netflix. Both of which I still do quite often.
Impact – Finally, we write these posts with the goal of impacting other teens. I see a huge issue with a lack of financial literacy among teens and that is something that I hope this blog can change. As I've always said, even if this blog changed only one person's life, all of this hard work would be worth it.
Our Goals For The Future
As we come around in 2021, our team has a lot that we are working toward.
My goal is still for this blog to hit 100,000 pageviews a month, which I still think is a very reasonable goal. I believe in 2021 we have a much better chance at hitting this goal as this time we only need to increase our traffic 5x what it is now.
Our next big goal for 2021 is to make recurring passive income from this blog. I'm going off to college this fall and I would love to have this blog be a passive income stream for me. I would also love to reward the team for all of their hard work. We're developing several monetization methods right now that should be producing a reliable income in 2021.
In 2021 we want to turn Teen Financial Freedom into an entire platform, not just a blog. We want to have a presence on social media, forums, and one other area that has yet to be announced (see goal #5).
We want to do better at collaborating more with other creators this year. This includes guest posts, sponsorships, partnerships, affiliates, etc.
Big Announcement, see below!
Big Announcement!
HERE'S THE BIG NEWS! In 2021, we will be launching the TEEN FINANCIAL FREEDOM PODCAST! BetterWealth, another big company in the financial niche, has generously offered to partner with us and help produce our podcast. For the past few months we have been planning and preparing to launch our podcast in 2021.
The podcast will be hosted by myself (Jacob) and Terry. We plan on diving deeper into content from our blog, but also creating new content that will be exclusive to the podcast.
A lot of our episodes will be casual conversations between Terry and I about finance, business, college, productivity, and success. However, we will also be leveraging BetterWealth's network and platform to get some big name guests on our show. We're talking the leaders of the finance world.
We plan on posting one to two episodes per week starting when we launch sometime late Q1 or early Q2. Stay tuned for more info!
The Takeaway
That's it! I hope you enjoyed our second blogging case study. I hope you learned from the changes we have made to our strategy and from the advice I had to give. Remember that blogging growth is exponential and comes unexpectedly. Finally, I hope that you enjoyed hearing our goals for 2021 and will stick around to see what happens! Thanks for all of your support and we would love to hear your thoughts in the comments below!
Next Steps
If you enjoyed this post, please make sure to comment your thoughts below and share it on social media!
Check out more content for:
Use this link to sign up for a brokerage account on WeBull and get TWO FREE STOCKS valued up to $1400 when you fund your account!
Learn how I was able to make $1,000/month as a teenager and quit my job by freelancing on Fiverr!
Join The Group Of Teens Dedicated To Achieving Financial Freedom
Disclaimer: Some of the links used on this site are affiliate links. At no additional cost to you, we receive a commission each time you purchase something through our link. It helps us cover the costs of running this blog. We only recommend the best products available.
Disclaimer: We are not experts or certified financial advisers. Our advice for you based on what has worked and continues to work for us. If financial problems occur we are not responsible for them and advise that you speak to a professional. That being said, we believe wholeheartedly that the advice we give to you will help your financial situation greatly.